Thousands of laptops are stolen every year. Don't become a statistic – utilize PNY's ThinkSafe suite of security products.
PNY has expanded their lineup of ThinkSafe™ Portable Laptop Locking Systems with a Keyed Lock version. The ThinkSafe family of products safely secures your Laptop, Ultrabook, or MacBook via your device's hinge or built-in slot. Current products include the Laptop Locking System and the MacBook Locking System – both featuring combination locks. Additionally, PNY also offers a Security Clamp accessory.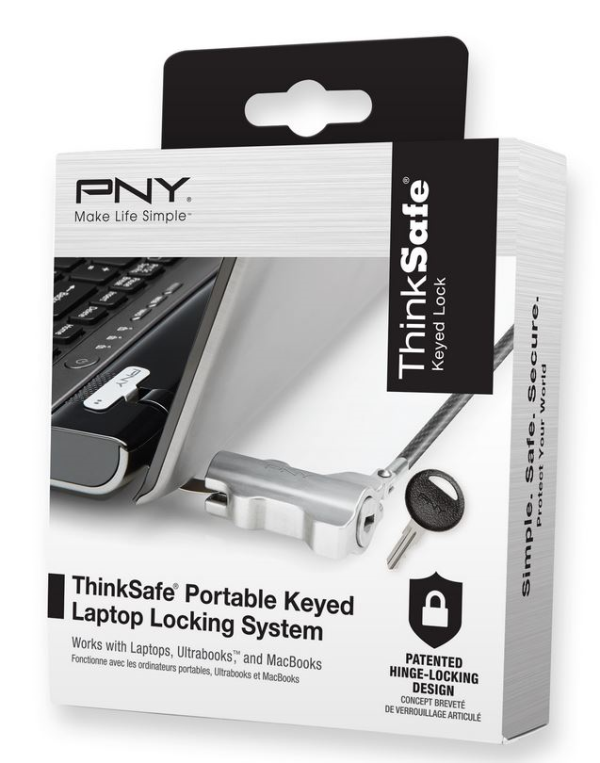 The patented hinge-locking and patent-pending slot-locking designs utilize Hinge-Link™ and Slot-Link™ technology, providing a secure and universal fit. Plus, the keyed lock grants the ultimate in security. Our ThinkSafe product locks down the new MacBook Air & Pro with Retina Display. Protect Your World!
BENEFITS
• Portable Locking System engineered to work with Laptops, Ultrabooks,™ and MacBooks
• Clean & convenient out-of-the-way locking solution. Does not obstruct ports on the
side of your device.
• Patented hinge locking design provides the only solution available to lock newer Ultrabooks that have no security slot
• Compact size easy to transport with included travel pouch
• Easy to Use: Hinge-Link™ inserts through your device hinge in seconds

You've invested a lot in your laptop and we've designed the easy way to keep your laptop secure. Whether you're on the road or in the office PNY's ThinkSafe™ Portable Laptop Locking System keeps your laptop safe.

Simple. Safe. Secure.

Link It: insert the appropriate Hinge-Link through the laptop hinge.

Loop It: loop the cable around a secure location point.

Lock It: connect the lock to the Hinge-Link™. PNY's ThinkSafe™ Portable Laptop Locking System provides protection and peace of mind whether your laptop is open or closed.