Seeing is believing, so check out how PNY empowered Ripple Creative Group to harness NVIDIA Quadro processing power for an ultra-realistic 3D virtual tour
Communicating what's in the mind's eye of an architect or interior designer can be daunting, especially for large, unusual, or groundbreaking projects. Ripple Creative Group, which specializes in multimedia communications for the building and real-estate industry, used NVIDIA Quadro K4000 GPUs—selected, integrated and supported by PNY—to create a 3D virtual tour for the high-profile ABC Green Home.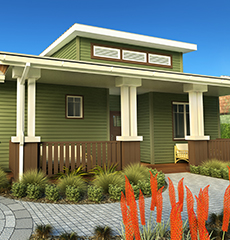 The virtual tour is so realistic that people seeing it thought they were looking at video of an already-built house. And the new process Ripple developed for this virtual tour—keeping it in one giant 400MB file, navigable only thanks to Quadro processing power —was such an improvement in their production pipeline that they now use this approach for all their clients.
Learn More: http://www3.pny.com/MarketingPromotions/CaseStudy_Ripple.aspx