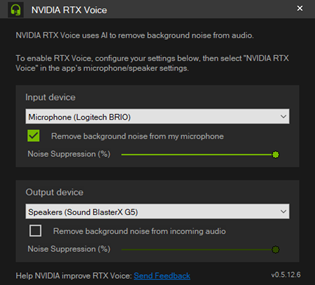 During this unprecedented period of Covid-19, many of us have found ourselves transitioning from the familiar bustling office environments to our not so quiet-and-quaint home settings. We are now sharing our office spaces not with our professional coworkers, but with family members and pets. Our homes are also not as insulated from the exterior as commercial office buildings. Street noises, and friendly neighbors doing their yard work are new challenges to our daily office lives.
These changes make it difficult to participate in online meetings quietly, forcing attendees to constantly switch between mute and unmute during meetings to prevent unwanted noises leaking into the conversations.
NVIDIA RTX Voice is a stand-alone application currently in beta phase that leverages the Tensor Cores found in the Turing RTX graphics cards and powerful neural network algorithms to remove background noise distractions from your audio input. RTX Voice can also help to remove the background noises coming from other meeting participants, greatly making the meeting conversation easier to understand.