During this unprecedented period of Covid-19, many of us have found ourselves transitioning from the familiar bustling office environments to our not so quiet-and-quaint home settings. We are now sharing our office spaces not with our professional coworkers, but with family members and pets. Our homes are also not as insulated from the exterior as commercial office buildings. Street noises, and friendly neighbors doing their yard work are new challenges to our daily office lives.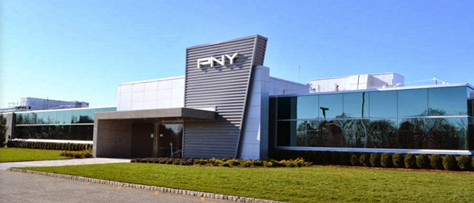 These changes make it difficult to participate in online meetings quietly, forcing attendees to constantly switch between mute and unmute during meetings to prevent unwanted noises leaking into the conversations.
NVIDIA RTX Voice is a stand-alone application currently in beta phase that leverages the Tensor Cores found in the Turing RTX graphics cards and powerful neural network algorithms to remove background noise distractions from your audio input. RTX Voice can also help to remove the background noises coming from other meeting participants, greatly making the meeting conversation easier to understand.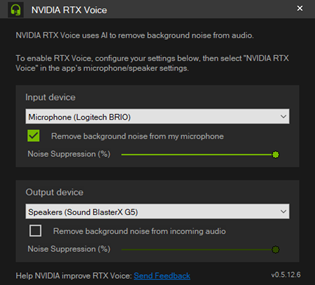 RTX Voice System Requirements
To install and use RTX Voice, you must be using an NVIDIA® Quadro® RTX™ or GeForce® RTX graphics card with Driver 410.18 or newer, and Windows 10. The application itself can be found directly on NVIDIA's RTX Voice project website; the link is provided below.
https://www.nvidia.com/en-us/geforce/guides/nvidia-rtx-voice-setup-guide
Compatible Platforms
Once installed, RTX Voice will become part of your audio input and output options in most meeting platforms. NVIDIA currently lists the following gaming, streaming and conference platform as supported:
OBS Studio
Streamlabs
XSplit Broadcaster
XSplit Gamecaster
Twitch Studio
Discord
Google Chrome
net Chat
WebEx*
Skype*
Zoom*
Slack*
Teams*
Steam Chat**
* RTX Voice speakers may exhibit issues in these apps.
**Turn off 'Noise Cancellation' for better quality.
For detail setup guides on these popular platforms, please visit NVIDIA RTX Voice landing page.
RTX Voice YouTuber demonstrations
RTX Voice is so effective in removing background noises, many famous YouTube celebrities had to put it to the test. All were impressed by its ease of use and effectiveness in removing background noises.
Here are few examples.
NewEgg Studio: NVIDIA RTX Voice noise cancellation: How to Setup and Test
Linus Tech Tip: This AI actually WORKS!!! - NVIDIA RTX Voice
NVIDIA Quadro for A.I.
RTX Voice leverages the power of Turing Tensor Cores and powerful neural network algorithms trained by NVIDIA to remove unwanted background noises. Algorithms powered by NVIDIA GPUs are an important part of our modern societies, and a big part of fighting against Covid-19. Please visit PNY Artificial-Intelligence page If you want to learn more about artificial-intelligence and NVIDIA Quadro RTX GPUs.
NVIDIA Quadro for Artificial-Intelligence
https://www.pny.com/professional/learn-more/artificial-intelligence

---
Do you have a great tip to share with the community regarding PNY GPU or Storage products?
We would love to hear from you. Please submit your tip suggestion by visiting the following page:
www.pny.com/pnyprotips