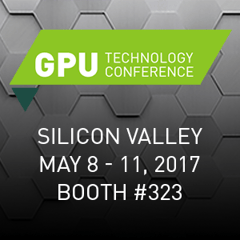 Visit PNY at the GPU Technology Conference to experience NVIDIA Quadro VCA Systems, Quadro GP100 Multi-GPU and Embedded Solutions.
Billed as the largest and most important event of the year for GPU developers, the GPU Technology Conference (GTC) showcases the most vital work in the computing industry today – including artificial intelligence and deep learning, healthcare, virtual reality, accelerated analytics, and self-driving cars. PNY is proud to be a sponsor of GTC 2017, and will be demonstrating the new family of Quadro Pascal™-based professional GPU solutions including: the Quadro GP100, Visual Computing Appliance (VCA) featuring eight ultra-high-end Quadro P6000 GPUs and Quadro Embedded solutions.
Demonstrations at the PNY booth will include:
IRAY PHOTOREALISM ON DEMAND WITH THE NVIDIA VCA
With eight ultra-high-end Quadro P6000 GPUs, the VCA, running SOLIDWORKS Visualize powered by NVIDIA Iray, offers unmatched stability and performance for mission-critical raytracing rendering workflows driven directly from CAD files.
VCA CLIENT WITH QUADRO P2000
Client workstation, powered by a Quadro P2000, networked to the VCA for accelerated photorealistic raytracing rendering.
QUADRO EMBEDDED SOLUTIONS
New embedded solutions offering the same powerful Quadro Pascal GPU performance in a small, low-power MXM form factor for ruggedized or custom hardware applications.
QUADRO MULTI GP100 PAIRED WITH NVLINK
NVIDIA Quadro GP100 graphic boards paired with NVLink™ to double the GPU memory footprint and scale application performance by enabling high speed GPU-to-GPU data transfers.
NVIDIA QUADRO GP100 SUPERCOMPUTING FOR CAE AND DEEP LEARNING
ANSYS® 18 engineering simulation software GPU accelerated with the Quadro GP100 using double precision (FP64) and fast HBM2 memory to both compute, validate and visualize engineering simulations.
Visit the booth to see these exciting demonstrations and to discuss with our experienced Account Managers how PNY can meet your future GPU needs. To arrange a personal demonstration at the booth, email gopny@pny.com.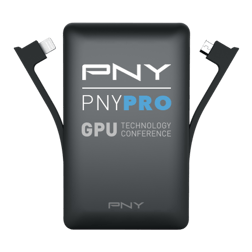 PNY will be raffling a PNY PowerPack every half hour during exhibit hours – stop by for your chance to win!