When most people hear that a Category 5 hurricane is bearing down to make landfall they'll want to head in the opposite direction. When you're a photojournalist like Chris Usher, you head into the eye of the storm. On August 28th, 2005 Usher set out on this journey from Washington D.C. on assignment for TIME Magazine outfitted with an assortment of cameras, a digital audio recorder, and his trusted "War Wagon", a 1985 Toyota Land Cruiser. What he thought would be a 3 or 4 day assignment, turned into a three week experience that would leave a long lasting impression on him.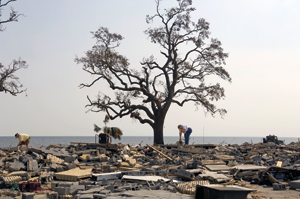 © Chris Usher
"Everyone was covering the story--no one was documenting it," says Usher. "No matter where you looked, there was a picture of destruction. It felt hollow to just shoot it and leave. You were walking on people's lives."
This was the sentiment that Usher felt while covering this assignment, and would resonate with him during his subsequent visits to the city of New Orleans; especially during the follow-up trips to document the rebuilding (or lack there of).
When the first Mardi Gras post-Katrina came around, an editor told Usher, "We're so over that story." Hearing that response Usher took it upon himself to finance his own effort to document this story, and took out a $75,000 home-equity loan and began the project One of Us. New Orleans and the Gulf Coast region had become an island of lost and displaced souls, and that was the story he wanted to tell through his photographs.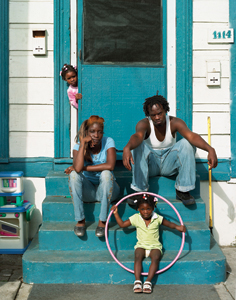 © Chris Usher
Chris knew this was a story that needed to be documented, not just covered. And so, One of Us was born. Published with the help of Eastman Kodak Company in partnership with ColorCentric, One of Us tells the three-year Post-Katrina story. The book is available online for $40.00 US. Through the support of Kodak, Usher will donate 100 percent of the $40 sales price from One of Us to the Gulf Coast Fund and the Southern Animal Foundation, relief organizations that continue to provide post-Katrina aid and assistance in New Orleans and the Gulf Coast.
Born and raised in St. Louis, Missouri, Chris Usher graduated from Indiana University at Bloomington with a degree in Journalism. Usher spent several years as a newspaper photographer, (Troy Daily News; Richmond Palladium Item; Louisville Courier Journal; Miami Herald; Orlando Sentinel) before going freelance and moving to Washington, DC in 1990. Currently living in Alexandria, Virginia, Usher's work appears regularly in domestic and international monthly and weekly publications. In between assignments, Usher is teaching workshops and experimenting with wet-plate processes. When he isn't working on assignments or projects, Chris would rather be fly-fishing in Montana.
To view photos and read more about Chris Usher's work, please visit: http://www.chrisusher.com/