(Get Organized)
It can get confusing with a bunch of the same color flash cards rattling around your camera bag. Well, here at PNY we're looking to help alleviate some of that confusion by offering a line of color SDHC memory cards.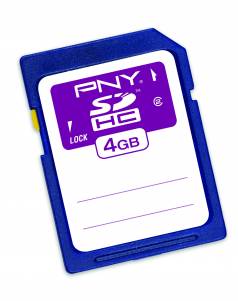 Now you can color code your photos, videos and songs making it easy to keep things organized. Purple for family photos, blue for vacation photos, green for projects and important files etc.
More and more electronic devices are utilizing SD-type memory cards; making them more ubiquitous with a daily digital lifestyle. Where will you find devices that support SD cards? Digital cameras, camcorders, laptops, netbook computers, hand-held recording devices, GPS navigation systems, televisions, MP3 players, smart phones, game consoles, and even exercise treadmills to name a few. One helpful hint: be sure that your format your memory card with your device. If you have questions about the formatting process, please consult the owner's manual of your device. Formatting will help reduce the risk of the card becoming corrupt, and makes it recognizable to your electronic device. Make sure that you've safely stored your images before formatting, as formatting can result in loss of data on the card.
To read more about these cards you can visit the PNY website.
Also, you can check out our YouTube Channel to learn about the difference between SD and SDHC cards.