MicroSD Memory Cards:
(Maximize Your Mobile Device)
Why do I need a microSDTM card?
STORE MORE and get the most out of your mobile device...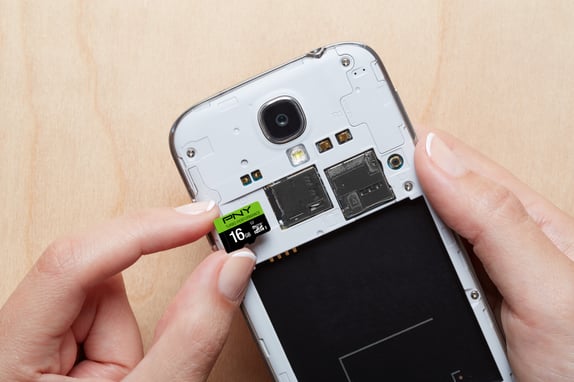 Today's cellular phones have evolved to become a complete mobile solution...offering multiple devices in one; including a camera to capture photos and video, MP3 player, games, e-mail, web browser, and even a personal navigation system (GPS). As networks and devices evolve, next-generation mobile phones are expected to do even more. As these functionalities expand the demand for more, memory is a necessity in order to get the most out of your device.
Why a microSD card? Mobile devices experience improved functionality with the addition of flash memory cards. For your cell phone the addition of microSDTM flash memory provides improved performance when you're running several applications at once, as well as the ability to store and share more images, videos, ringtones, games, music and more. Plus, PNY's microSD cards come complete with a full-size SD card adapter for use in SD compatible devices. The adapter makes it real easy to transfer data and files between devices. However, if you're computer does not have a port for an SD card you'll need to get an external port, or just use the USB or Firewire connection for moving the data without even removing the MicroSD card.
With capacities up to 128GB, think of all the additional music, video and data files you could be carrying in the palm of your hand.
To read more about microSD cards you can visit the PNY website.
Also, you can check out our YouTube Channel to learn more about utilizing MicroSD cards.