The 2010 Walmart 'Best In Class' was awarded to PNY Technologies, Inc. at Walmart's 2010 Fall Replenishment Summit, held August 11th in Rogers, Arkansas. Rowland J. Whitsell, senior director of Walmart innovation, presented the award to PNY for the company's outstanding performance metrics and supply chain reliability. PNY executives Jeff Olear, vice president of supply chain, and Jessica Scarpa, manager of demand planning and procurement, graciously accepted the award.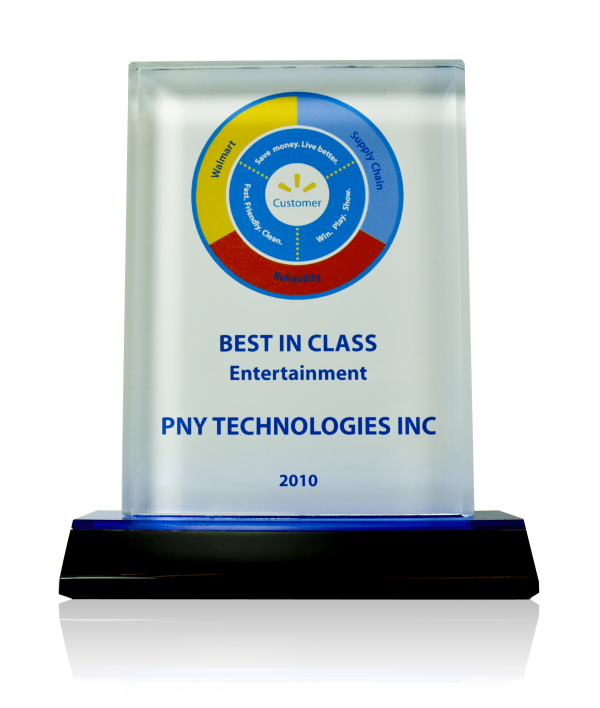 "PNY is honored to receive this award. The commitment and importance of our consumers has been essential in keeping PNY successful," said Jeff Masterson, director of sales at PNY. "We continuously strive to implement systems that allow innovative changes to reduce costs and increase efficiency; and have strengthened our overall operations to meet the ever-growing customer demand. In our 25th year, we're poised to take on the business challenges of this competitive and rapidly changing industry."
PNY has cutting edge solutions for every member of the family: from a MicroSD card in your cell phone; USB flash drive in your laptop; flash memory card in your digital camera; High Speed HDMI cable connecting your DSLR or video camera to your HDTV; or upgraded computer memory, SSD, and graphics card in your PC; PNY offers convenient options for keeping everyone connected.
Earlier this year, PNY was also awarded Walmart 'Photo Supplier of the Year' award for 2009, as well as 'Supplier Award of Excellence' for both first and fourth quarter 2009.