PNY Unveils XLR8® Performance Edition GeForce® GTS 450 Graphics Card
PNY Technologies has launched the latest graphics card from NVIDIA®: the XLR8® Performance Edition GeForce® GTS 450 1024MB GDDR5.
PNY's new XLR8 GeForce GTS 450 graphics card delivers the Fermi architecture in the perfect blend of gaming performance and price. Offering amazing game realism on the latest titles, with more than 2x the DirectX 11 geometry processing power, the GTS 450 is ready to dominate the competition. Equipped with the latest industry leading technologies, including NVIDIA 3D Vision support and NVIDIA PhysX® technology, the GTS 450 delivers unparalleled levels of performance at an incredible price. The high performance GeForce drivers allow users to unlock the full power and capability of their new graphics processor, delivering continuous performance optimization. The GTS 450 also comes prepared with a native HDMI-mini port, and paired with the included HDMI mini - HDMI adapter, allows for effortless connectivity to any HDMI enabled computer monitor or television for first-class HD visuals and riveting 3D gaming sound.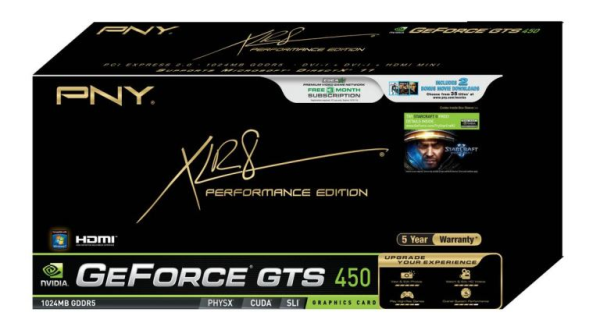 Consumers who purchase the PNY GTS 450 will receive a promotional code for a trial version of Blizzard® Entertainment's recently released StarCraft® II: Wings of Liberty™. Users can indulge in the critically acclaimed sci-fi strategy game for 14 days or 7 hours of game play, whichever comes first. This exclusive opportunity allows users to experience a sneak-peak of the full game, valued at $59.99 MSRP.
Additionally, consumers who purchase a PNY GTS 450 will receive a bonus of 2 full-length movie downloads from Sony Pictures Home Entertainment; perfect for those interested in using their graphics card for enhanced visualization in their home theaters. Consumers have their choice of over 35 movie titles from a broad selection of genres including Action/Adventure, Drama, Comedy, Romance, Sports, and Family. The bonus Sony movie downloads include recent blockbuster hits as well as favorite classics, such as The Da Vinci Code, Hitch, Big Daddy, As Good As It Gets, 21 and S.W.A.T.
The PNY GTS 450 graphics card will also feature a bonus 3 month subscription to E-Sports Entertainment (ESEA) Premium Video Game Network. ESEA is a video game solution provider, specializing in community tools, proprietary anti-cheat technology, custom server modifications, and an extensive network of premium game servers. Users can learn, play, practice and compete all with an ESEA Premium subscription.
XLR8 GeForce GTS 450
1024MB of GDDR5 frame buffer memory
783 MHz core clock and 1566 MHz shader clock
192 processor cores
57.7 GB/second memory bandwidth
A texture fill rate of 25.1 billion/second
An effective memory data rate of 3608 MHz
PNY's latest graphics card comes equipped with the following features:
Microsoft® DirectX 11 support
NVIDIA CUDA technology with CUDA C/C++, DirectCompute 5.0 and OpenCL support
NVIDIA PhysX technology
NVIDIA SLI–Ready
NVIDIA 3D Vision™ Ready
NVIDIA PureVideo® HD technology
PCI Express 2.0 support
Two dual-link DVI-I connectors
One HDMI-mini connector
Dual-link HDCP-Capable
OpenGL 4.0 support
PNY offers a 5-year warranty on the new GTS 450. Users have a standard 3-year out of box warranty, extended an additional 2 years upon completion of product registration at PNY.com within 90 days of purchase. PNY also offers free 24-hour technical support.
For more information on the complete line of products that we have to offer, visit www.PNY.com. For the gaming enthusiast, visit our on-line gaming portal at XLR8gaming.net.