PNY's New Smart Active High Speed HDMI Cable
Ideal for connecting Apple® devices to a HDTV.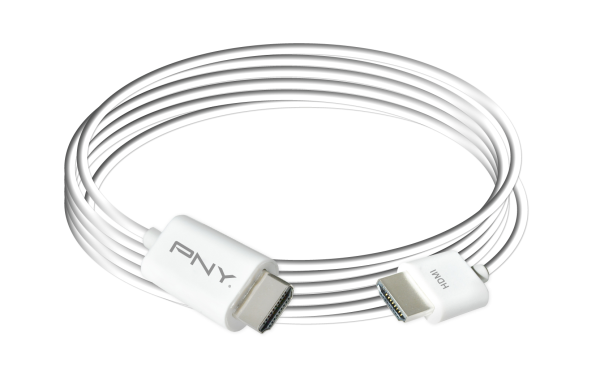 PNY is pleased to anounce a new addition to our line of Smart Active High Speed HDMI® Cables: the 16ft. White Active HDMI Cable, featuring HDMI type-A connectors in high-gloss white.
Ideal for seamlessly connecting Apple® devices to a HDTV, the design of the PNY White Active High Speed HDMI Cable was engineered to complement the streamlined and uniformed look of Apple products. With a sleek white finish and custom designed end-caps, the PNY HDMI cable is perfect for connecting your iPad®, iPad 2, iPhone® 4 and 4S, and iPod touch® to your HDTV, video projection screen, or other HDMI-compatible display using Apple's Digital AV Adapter. The PNY HDMI cable also works with other HDMI equipped devices such as Apple TV®, Mac® Mini, MacBook Pro, MacBook Air, and other home theater devices (adapter required for MacBooks). Users can view photos, watch movies and videos, review documents and presentations, and play games from their devices to an HDTV in up to full 1080p, from up to 16 feet away. The long length allows for comfortable and easy use, while the slender and flexible design offers complete portability and easy storage while not in use.
Smart Active HDMI Cables by PNY were developed with an integrated circuit technology to enable superior signal quality. The built-in chip guarantees 10.2Gbps (gigabits per second) bandwidth stream for flawless 1080p HD performance and digital surround sound. At a slender 3.5mm diameter, PNY's White Active HDMI Cables are also 70% thinner than standard passive cables currently on the market, offering supreme performance in a svelte design. Specially engineered for long lengths of 10 feet and up, these cables were built to deliver optimum high definition quality in a slim size. The active built-in chip technology regulates the signal to prevent loss and enables PNY's HDMI cables to achieve 1080p HD video and audio through an ultra-thin design across extended lengths.
With just a single PNY cable users can connect to a high definition monitor or television. From a 9.7-inch screen to a HDTV, take advantage of the dual-core A5 processor on the iPad 2 and enjoy full screen mirroring via the PNY Smart Active Cable. View your iPhone 4S 8 mega-pixel photos and 1080p videos on your HDTV via one simple connection. Offering more versatility for the devices you already own, this Smart Active High Speed HDMI cable is the perfect companion to your Apple devices.
White HDMI to HDMI Cable
Length: 16ft. (4.9m)
Type: A to A connectors
MSRP: $39.99
The PNY Smart Active High Speed HDMI Cable in White is available for purchase at Best Buy and PNY.com, as well as at select e-tailers and retailers. PNY offers a Limited Lifetime Warranty on all their Active HDMI Cable types: HDMI, HDMI Mini, and HDMI Micro. Users have a standard 1-year out of box warranty, extended to the lifetime of the original purchaser upon completion of product registration at PNY.com within 90 days of purchase. PNY also offers free 24-hour technical support.
Apple iPad, iPhone, iPod Mac Mini, MacBook Pro, MacBook Air, are trademarks of Apple Inc., registered in the US and other countries.