MOMENTA WORKSHOPS: A DIFFERENT APPROACH TO PHOTO EDUCATION
Are you looking to sign-up for a photo workshop? Well, you should seriously consider taking a look at the unique offerings from Momenta Workshops. With headquarters just outside of the Washington, DC area and workshops taking place all over the world, Momenta prides themselves on offering a different approach to how a workshop is conducted. The programs have a fresh perspective where students learn business skills, get daily editing and develop a portfolio piece to use professional. PNY is proud to have supplied Momenta with high speed memory cards and USB drives on a number of their workshops.
Momenta's next upcoming workshops specializing in working with non-profits are in India and New Orleans. The next workshop takes place in Dehradun, India 1/29/12 – 2/11/12 and New Orleans takes place from 4/12/12-4/15/12.
We sat down with Founder John Anderson and Director Jamie Rose to ask them about their programs.
__________________________________________________
PNY: What makes Momenta different from other workshops?
Jamie: First, thank you for asking us to talk about our programs with your readers! Even though we might be biased, we feel our workshops are special on many levels. We only do 6-10 workshops a year because we want to make sure the quality of the education is above par. We spend an enormous amount of staff time researching and planning for each trip. We strive to make these trips the best learning experience for photographers interested in taking the images to the next level. Our programs are designed to help at the individual level for each photographer to grow into their own visual perspective.
John: The biggest difference is the editing. Between our experiences working for newspapers and my time as a photo editor at National Geographic, all of the leadership at Momenta has learned the value of editing. Each person gets on average 1 hour per day one-on-one with an instructor. We sit down to look over all the photographs of the day, the good and the bad. We talk about ways each person specifically can improve, ways to try new things and also address problem areas the student would like to solve. This style of instruction is much more personal and leads to greater trajectory of growth for each individual photographer.
PNY: What skill level of photographer usually attends your workshops?
Jamie: It really depends on the trip but I can say our students are more dedicated and serious about learning than you might find on other workshops. We consider the workshops to be a very intense photo class, not just a fun trip with your camera. Our instructors are accomplished professionals who take the editing process very seriously. Therefore, most of our students, even the more beginning level photographers, are very dedicated to the learning process. Because everyone is getting edited one-on-one and not in a huge group editing session, the group isn't held back by one person struggling with fundamentals. Instead, each person grows at their own pace.
PNY: But what about people who are advanced professionals, do you ever have those attend?
John: Yes, absolutely. Momenta strives to create a curriculum flexible to each person's goals in photography and that includes advanced professionals looking to diversify portfolio. Our workshops are more like a university-level photography practicum than a photo tour. The difference being, you are in the field actually working on a nonprofit or documentary photo story. That kind of experience appeals to professionals who don't get this kind of storytelling development in their jobs.
Jamie: But, John is right: the learning experience really comes down to the editing. We have had 20 year veterans sitting next to a collegiate photographers on a workshops. We each person's goal for their career into consideration with their nightly critiques so that photographer leaves with a wonderful portfolio piece and a clear sense of strategy for their career. It's really exciting because the newer professionals can learn from the more advanced and the camaraderie building among the generations is part of the workshop experience. It's really exciting to see!
PNY: Have any Momenta students gone on to use their work professionally?
Jamie: Three Pulitzer Prize nominations came from stories our students did on our workshops. We've had at least 6 of our student's work featured on Photo Philanthropy. Our student's work from the workshops have won NPPA, WPOW and POYi awards. Two of our students were sent on assignment overseas based on their workshop portfolios. One of them is currently having a gallery show in Cape Town….It's really hard to name just one! They have all done such amazing things!
PNY: How do you choose the nonprofits you work with and what is the relationship?
John: This is a good question because we are very selective about the nonprofits we work with. We do research on each group and contact community organizers to make sure the groups are reputable and need our help. We try to choose local, small nonprofits with very small working budgets who cannot at this time support a professional photographer. The students are paired up with nonprofit and in exchange for access to their programs and clients, the student chooses to give them a selection of their imagery. Students who work alongside an organization for long-enough to complete a full-length photo story are usually very satisfied with their photographic progress. It is challenging, emotional, exhausting but also very, very worthwhile. It's a life-changing experience for many people, us included.
Jamie: We also offer a 1-day intense training program for the nonprofits, both in the US and internationally, that helps them understand digital communications and how to use the images they have been given for marketing and promotional purposes. We also explain how the funds they raise can be used to hire local photographers and support the photographic industry in their region. This is our way to keeping good professionals working around the globe.
John: The students and organizations are both better served with a more intimate relationship with partners and subjects. Plus, these are organizations who really benefit from the hard work of the photographers. It's much more rewarding for everyone when it's win / win.
PNY: How do your workshops change year to year?
John: Topics and schedules vary from year-to-year because we endeavor to keep the material fresh and innovation is a big part of our curriculum. If we taught the same curriculum over and over, our skills and offerings would quickly loose sight of the marketplace. Jamie is constantly working with our staff to create new lectures on business, networking and marketing trends. Business innovation is the core of our training. Without that, we're simply just another one of many workshop offerings.
PNY: Your community of alumni are very close and very vocal about their positive experiences with you. How did that happen?
Jamie: Twitter and Facebook are lifelines in many ways! Our social networking is one of the strongest aspects of our community. Our students have private alumni groups where they share ideas, portfolio stories, contests, awards, trends and so much more. Many of our students get together and have happy hours and group get togethers. They refer to themselves as the "Momenta Family" because, after spending two weeks in a country together, we all get very close to each other.
PNY: Thanks for taking the time with us today. Any parting thoughts to share?
John: Yes, I would add that anyone who is interested in our workshop should contact us at info@MomentaWorkshops.com or call our offices and ask to speak to Jamie at 202 688 1448. We are very accessible and we welcome trying to find the best workshop experience for your budget and your skill level. Thank you so much for having us!
__________________________________________________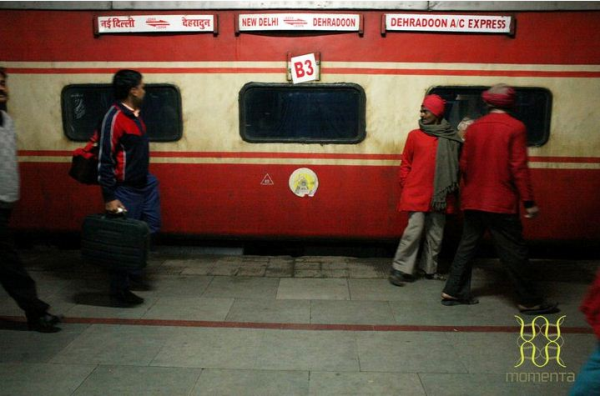 Porters wait at the Dehradun Train Station in the early morning for arrivals. Photo © Claire Kern/Momenta Workshops 2011
Looking at their entire line, Momenta's programs appear to be challenging and motivating for working photographers to take their photography to the next level and push their boundaries for growth in their field. Two solid weeks of hands-on mentoring and editing with each photographer is more than most photographers get in a year. If their goal is to produce stronger creative professionals, their success with their clients seems to prove the model works.
So, if you feel like you are up to the task, ready for enthusiastic support and can face a challenging workshop with a great track-record of success, Momenta might just have a program that fits your photographic goals. Certainly the rewards are lifelong images of wonderful places and people.
Here's a list of the current Winter-Summer workshops from Momenta:
Location: Dehradun, India
Dates: January 29th – February 11th, 2012
Location: New Orleans, Louisiana
Dates: April 11-15, 2012
Location: Cape Town, South Africa
Dates: June 3-16, 2012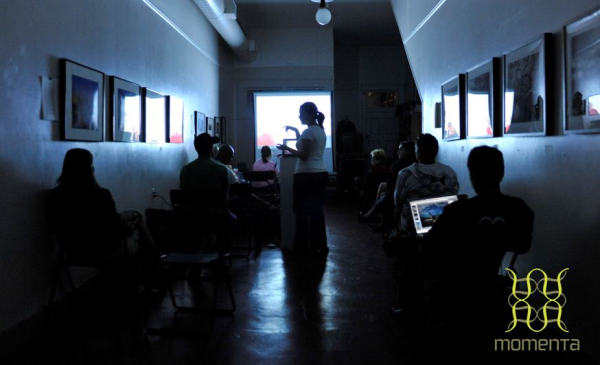 Director of Momenta Workshops Jamie Rose shows her international nonprofit portfolio during the Project New Orleans workshop at the New Orleans Photo Alliance, which is the headquarters for the workshop. Photo © Chris Usher/Momenta Workshops 2011