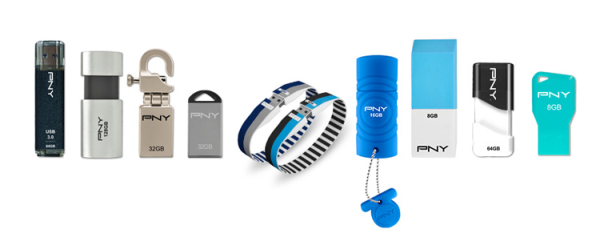 PNY is pleased to announce a plethora of new USB Flash Drive storage options for the Back-to-School season. Featuring the latest technologies and design options in plastic, rubber, or metal styles, PNY's new line of USB Flash Drives has something for every student and teacher. From elementary through college and business use, PNY's newest flash drives offer a variety of fresh new colors, shapes, and styles to suit your personal taste.
New Technologies and High Capacity Designs
The PNY 32GB USB 3.0 offers faster transfer rates than ever before. This durable metallic drive is ideal for quickly and easily transferring and storing files like movies, videos and pictures – at speeds of up to 80MB/s.
The 128GB Attaché™ is PNY's largest capacity USB Flash Drive ever offered – a great storage option for large files like movies and videos. Featuring a sliding collar, the capless design is metal coated in a two-tone silver and black color, for a premium look and feel.
Sleek and Stylish Metal Designs
The Micro Hook Attaché™ is a tiny, metal USB with a durable hook for easily securing to a briefcase, purse, backpack, keychain, etc. Flip the hinged hook up to create a low profile design and professional look – a perfect complement to Ultrabooks and ideal for college use.
The Micro Metal Attaché™ is an extremely micro sized USB drive in a sleek and sophisticated metallic design. The petite drive conveniently slips into in a pocket, purse, wallet, backpack, etc., for storage with style. The ultra-low profile design with brushed metal finish is ideal for Ultrabooks and MacBooks, and is hardly noticeable when plugged into the USB port.
Durable Rubber Designs
The Eraser Attaché™ is a USB that is shaped like a traditional eraser and ideal for middle school students. Available in pink, blue and gray, the colored cap works as a functional eraser – to actually erase pencil marks away. It's also magnet-proof, water-proof, shock-proof, and temperature-proof for the utmost in durability.
The Sport Attaché™ is encased in smooth and durable rubber. This active lifestyle drive that is magnet-proof, water-proof, shock-proof, and temperature-proof features an easy grip design and integrated cap holder. With so many features, it's ideal for high school students.
The Bracelet Attaché™ features a soft rubber bracelet in various trendy designs. Each bracelet is reversible and comes with an additional bracelet band that can be easily interchanged to match your personal style. It's also water proof, shock proof, temperature proof and magnet proof, so you can wear it almost anywhere. The bracelet is designed for a smaller wrist, making it ideal for pre-teen and teen students.
Connect Attaché™ drives have a fun and unique shape, which easily connect to each other for storage fun! Store, transport, and share photos, videos, music, files and more.
Distinctive Plastic Designs
The Compact Attaché™ is a smaller version of PNY's traditional Attaché USB Flash Drive and features a sliding collar for a capless design in multiple color combinations and up to 64GB of storage. Like the name states, it's a great compact solution for storing and sharing content.
The Key Attaché™ features a small, key-like design that easily blends into your keychain. Its low-profile base is discreet when plugged into a device.
We have a continued focus to keep our USB designs contemporary and unique, to reflect the broad demographic and diverse needs of our consumers. The expanded direction of our USB line supports all ages, functions and applications, so students can manage their homework, presentations, music and movies - all with reliability and style.
PNY offers a 1-Year Warranty for the entire line of Attaché™ USB Flash Drives. PNY also offers free 24-hour technical support. All of PNY's new USB Flash Drives are currently available for purchase at select e-tailers, retailers, and PNY.com.