PNY Technologies today announced the XLR8™ GeForce® GTX 660 Ti 2048MB GDDR5 graphics card. The GeForce GTX 660 Ti adds a new dimension to the game-changing NVIDIA® Kepler-powered family of graphics cards by delivering the ideal fusion of performance, power efficiency, and affordability.
Get the weapon of choice for gamers – the GeForce GTX 660 Ti. Designed to deliver faster, more power-efficient graphics performance for a smoother, richer gaming experience, PNY's latest graphics card is bursting with innovative NVIDIA gaming technologies.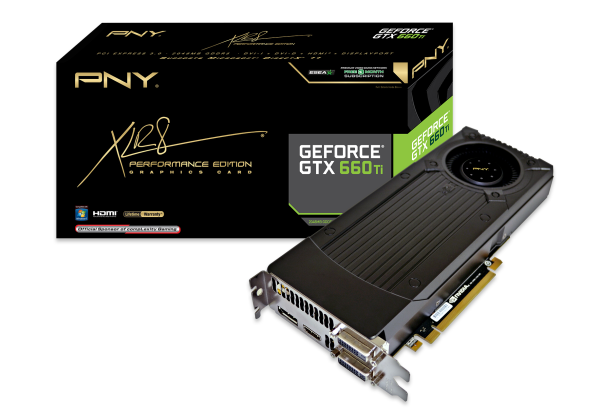 GPU Boost: brand new technology that offers additional power without overclocking and dynamically maximizes clock speeds to push performance levels for faster gaming
DirectX 11: features GPU-accelerated tessellation for film-like geometrical detail, compute shaders for custom graphics effects, and improved multithreading for better hardware utilization
PhysX®: delivers a rich, immersive gaming experience with new dynamic physical environments like fracture and fur
TXAA Technology: support for new temporal antialiasing techniques that delivers the ultimate combination of image quality and performance
Adaptive Vertical Sync Mode: adjusts VSync to current frame rates for maximum playability, in a fast and seamless way for smoother gaming
Single GPU 3D Vision® Surround: gamers can now experience simultaneous quad-monitor support on a single GPU - for a game visual spread across three monitors, plus one additional monitor for email, chat, web browsing and more
Packed with the latest gaming technologies, the GTX 660 Ti is an ideal upgrade for today's hottest and most demanding games. The innovative Kepler architecture, along with the core NVIDIA technology features, is now available at an affordable sub-$300 price point. PNY's XLR8 GeForce GTX 660 Ti will be the best value in the graphics card market today.
Specifications
BUS Technology: PCI Express 3.0
CUDA Cores: 1344
Core Clock (MHz): 915 MHz
Boost Clock (MHz): 980 MHz
Memory Amount: 2048MB GDDR5
Memory Interface: 192-bit
Memory Frequency (effective): 6.0 Gbps
Power and Thermal: 150W-Active
Outputs: DVI + DVI + HDMI + DisplayPort
MSRP: $299.99
Key Features
NVIDIA GPU Boost
NVIDIA Adaptive Vertical Sync
NVIDIA Surround™
Support for four concurrent displays including:
- Two dual-link DVI
- HDMI®
- DisplayPort 1.2
Microsoft® DirectX® 11 with DirectCompute 5.0 support
NVIDIA PhysX® technology
NVIDIA 3D Vision®-Ready
NVIDIA SLI®-Ready
NVIDIA CUDA® technology
PCI Express 3.0 support
Open GL 4.2 support
Additionally, consumers who purchase a PNY GTX 660 Ti will receive a bonus 3 month subscription to E-Sports Entertainment (ESEA) Premium Video Game Network. ESEA is a video game solution provider, specializing in community tools, proprietary anti-cheat technology, custom server modifications, and an extensive network of premium game servers. Users can learn, play, practice and compete all with an ESEA Premium subscription.
PNY offers a Limited Lifetime Warranty for the entire XLR8 GeForce GTX Series, including the GTX 660 Ti graphics card. Users have a standard 1-year out of box warranty, extended to the lifetime of the original purchaser upon completion of product registration at PNY.com within 90 days of purchase. PNY also offers free 24-hour technical support.
The PNY GTX 660 Ti will be available for purchase at select e-tailers, retailers, and PNY.com. For more information on the complete line of products that PNY has to offer, visit www.PNY.com. Gamers can also check out compLexity Gaming – one of the world's most prolific gaming organizations. PNY holds the distinct honor of being the "Official Sponsor" of compLexity Gaming.