PNY Partner Program
Channel Availability Announcement
Products:
HP Solid State Drives
- HP v300ak SSD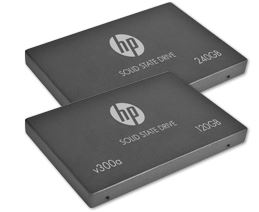 Release Date: Available now in the US through Ingram Micro USA, and in Canada through Ingram Micro Canada and Tech Data Canada.
Big Performance, Small Form Factor
Turbo Charge your PC with the v300 series SSD. Improved system performance
through faster boot time, lighting-fast application loading, and extreme write speeds.

Benefits
Perfect for improving your system performance, faster OS boot up and application loading.
Extreme Performance: Sustained read speeds of up to 550MB/s and
write speeds up to 520MB/s allows for fast application loading and ability
to manage multiple applications at blazing fast speeds. No HDD can compete.
Durable construction: High quality aluminum drive housing, and solid state
technology provide superior tolerance to shock and vibration then conventional HDDs.
Simplified Upgrade: Includes all the tools necessary to integrate the SSD into
your Ultrabook, Laptop, or Desktop. Makes moving your data to the SSD simple.
Dependable Reliability: With no moving parts and better power consumption
versus HDDs giving you more hours of worry free computing.
HP 120GB 2.5" Solid State Drive
& Upgrade Kit v300ak

Part Number: SSD7SC120GCDA-HPKIT
UPC: 751492529660
Size: 120GB
MLC Endurance: 3K
Read/Write: 550/520
IOPS: 85K
Upgrade Kit: Acronis TrueImage HD cloning software, 2.5" External USB 3.0 enclosure and cable, screwdriver and 3.5" adapter bracket for desktops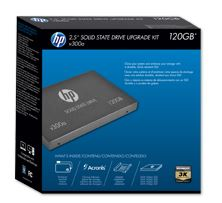 HP 240GB 2.5" Solid State Drive
& Upgrade Kit v300ak

Part Number: SSD7SC240GCDA-HPKIT
UPC: 751492561134
Size: 240GB
MLC Endurance: 3K
Read/Write: 550/520
IOPS: 85K
Upgrade Kit: Acronis TrueImage HD cloning software, 2.5" External USB 3.0 enclosure and cable, screwdriver and 3.5" adapter bracket for desktops