The PNY CS1311 SSD is the new addition to the value performance line of PNY SSDs, available in SATA 2.5 form factor and density offerings of 120GB - 960GB. Optimized for mixed workload, the CS1311 model offers stable performance for cost conscious SSD buyers and serves as an ideal entry level SSD.
The PNY CS2211 is PNY's next generation of XLR8™ SSDs that offers extreme performance for demanding multimedia files. Optimized for high sequential read speeds of up to 565 MB/s, this drive is specifically geared to dramatically improve game load and entry times, and for editing videos with 4K content. These high performance 2.5" SATA SSDS offer capacities of 240GB, 480GB, and 960GB using the latest MLC NAND Flash and a four-year limited warranty.
Acronis® data migration software, which allows for a seamless experience when transferring data from an existing drive to a new PNY solid-state drive, is now included with both PNY CS1311 and CS2211 SSDs.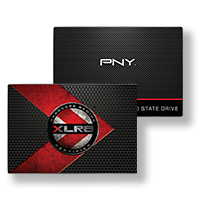 *For warranty details please see www.pny.com
Learn More:
Check out why these drives are Recommended by The SSD Review here.