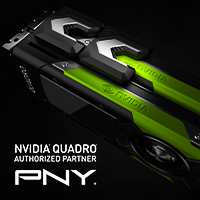 NVIDIA® Quadro® GP100 excels at a capability to run both compute and graphics tasks, allowing users to run demanding simulations and create complex 3D models at the same time.
GP100 is targeted for professionals who need extremely high levels of compute and visualization performance. Solutions within Manufacturing, Media & Entertainment, Medical, AEC, Scientific Visualization, HPC, and AI/deep learning segments are examples but many other use case scenarios can be realized as well.
NVIDIA Quadro GP100 Pascal GPU floating point hardware provides the FP64 (5.2 TFLOPS), FP32 (10.3 TFLOPS and FP16 (20.7 TFLOPS) performance required for demanding compute, simulation, AI and deep learning applications.
SIMULATION USES:
Quadro GP100 can run FEA, CFD, CEM, and other GPU accelerated analysis codes faster. With 16GB of ultra-fast HBM2 memory, larger simulations can fit into GPU memory and can be processed faster than ever before.
DEEP LEARNING AND AI USES:
Industry leading double precision floating point (FP64) and half precision floating point (FP16) data performance make the GP100 the ideal development platform for HPC and deep learning training. INT8 is also available for deep learning network inferencing.
---
GP100 cards can be combined via NVLink, a new ultra-high-bandwidth communications channel that effectively delivers 32GB of unified GPU memory. NVLink programmed applications allow two GPUs to share processing and memory power to create a scaled multi-GPU compute solution. NVIDIA Quadro Sync II compatibility enables the GP100 to build massive and sophisticated visualization, simulation and rendering environments.
NVIDIA Quadro GP100 Datasheet »
NVIDIA Quadro GP100 Quick Specs »
---
PNY is proud to be a sponsor of NVIDIA GPU Technology Conference 2017 - the largest and most important event of the year for GPU developers.
GTC 2017


May 8-11 | San Jose, CA




Booth: #323