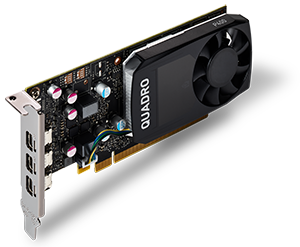 Combining the latest Pascal™ GPU architecture with 2GB of ultra-fast on-board memory, the Quadro P400 offers compelling advantages over Integrated Graphics Processors (IGPs) for both manufacturing users and for basic DCC tasks. A single-slot, low-profile form factor makes it compatible with compact enclosures with modest power supplies. If you need 4K or 5K support and vivid HDR images (requires an HDR compatible display), the Quadro P400 will let you see further than any IGB-based system.
NVIDIA QUADRO P400


Features + Benefits relative to K420 2GB

The table below compares the features and benefits of the Quadro P400 to the prior generation Quadro K420 2 GB. The GPU architecture advances from Maxwell to Pascal, and the CUDA core count is upped from 192 to 256, which results in faster rendering and compute performance. Overall significantly greater performance is available, as seen in the FP32 performance score – an increase from 0.3 to 0.641 TFLOPS which equates to 114% greater compute performance. 2 GB of GDDR5 memory communicates over a 64-bit memory bus, with 10% better bandwidth. Display support raises the bar with three 4K or a 5K display – all with HDR support for more lifelike images. Board power, in spite of the greater performance offered, drops by eleven (11) W, making it easier than ever to integrate Quadro professional graphics into even the most power and space constrained system.

---

Visit PNY at GTC 2017
PNY is proud to be a sponsor of NVIDIA GPU Technology Conference 2017. GTC showcases the most innovative work in the computing industry today—including artificial intelligence and deep learning, virtual reality, self-driving cars, and accelerated analytics. See us in Booth # 323 and use code FFXGTC17 to save up to $240 on regular rates when you register through April 5.