This year's PAX East took place in the Boston Convention and Exhibition Center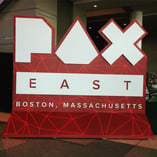 in the heart of Boston, Massachusetts. With tens of thousands in attendance, this show is one of the largest gaming events in North America. The exhibit hall featured all genres of games, including PC, tabletop, console, and handheld games, covering over five hundred thousand square feet.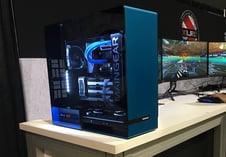 In our booth this year, PNY, in partnership with MAINGEAR Computers, featured demonstrations of NVIDIA's VR-ready graphics cards. Attendees had the opportunity to experience Rocket League in 4K surround on three curved Acer Predator monitors, powered by NVIDIA GeForce GTX 980 OC in 3-way SLI in a RUSH desktop. At the other end of the booth, attendees were able to step into virtual reality using the Oculus Rift, powered by an impressive system featuring two GTX 980 OC setup in SLI in an F131 system. Both systems also featured PNY CS2211 SSDs and 16GB Kits of PNY Anarchy X DDR4 RAM.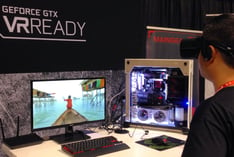 In addition to PC gaming and demonstrations using the Oculus headset, PNY gave away three GTX 950 graphics cards throughout the duration of the show to participants who shared photos on Instagram or Twitter. PNY will showcase these sytems again at DreamHack Austin from May 6th-8th in Texas. Be sure to stop by our booth #324 if you will be in attendance.