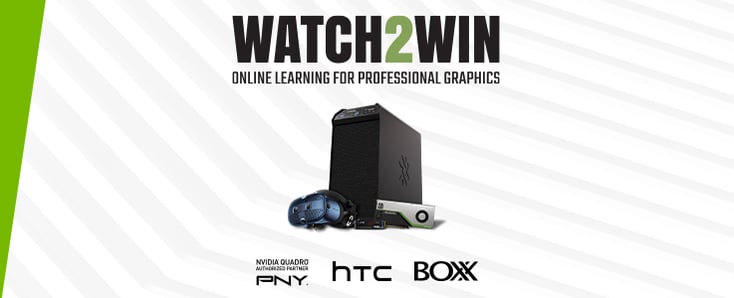 PNY's Watch2Win contest is back! WATCH2WIN has long been the foundation of PNY's graphics e-learning program for customers who use NVIDIA Quadro professional graphics boards to accelerate their workflow. For this latest contest, which runs from February 15 to April 15, 2020, PNY is excited to partner with BOXX Technologies and HTC to offer a Grand Prize VR-Ready APEXX A3 workstation with real-time rendering and AI ready NVIDIA Quadro RTX 4000, plus an HTC VIVE Cosmos PC-VR headset.
Your Chance to Win an NVIDIA Quadro RTX 4000 Powered Workstation


The new WATCH2WIN offers several ways to earn entries for the Grand Prize, an NVIDIA Quadro RTX 4000 powered APEXX 3 VR-Ready Workstation from BOXX with an HTC VIVE Cosmos PC-VR HMD, offering the VIVE series highest resolution ever and innovative inside-out tracking that eliminates the need for base stations. This workstation is a powerhouse for tasks ranging from AEC to AI, Manufacturing, Media & Entertainment, or anything in-between! There are multiple ways you can earn entries for the grand prize including watching our short and informative videos, which highlight the key benefits and advantages of using NVIDIA Quadro GPUs in professional workflows.
As an incentive to stay up to date with NVIDIA Quadro product information, tips and tricks and use cases, you can also earn entries by signing up to PNY's NVIDIA Quadro-centric professional social platforms.
We hope you enjoy this new and exciting way to learn more about NVIDIA Quadro products and solutions. Visit the WATCH2WIN page to enter the contest and you could join our growing list of Watch2Win winners!