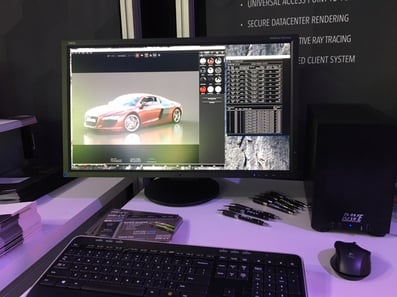 Designed to significantly speed up rendering workflows for artists and designers using GPU-accelerated renderers like NVIDIA Mental Ray, NVIDIA Iray and Chaos V-Ray RT, the NVIDIA Quadro VCA (Visual Computing Appliance) is the perfect platform for scalable, interactive photorealistic rendering, all in a data center appliance.
The new VCA Certified Systems program, announced at GTC, extends the reach of VCA making it convenient for creative professionals to access the power of scalable photorealistic rendering through certified regional partners. Among the first PNY Select Partners to join the certification program are: BOXX, Colfax, Exxact, GPL Technologies, Nor-Tech and Images et Technologie.
Powered by eight high-end NVIDIA P6000 GPUs and accessible to anyone on the network, VCA Certified systems are easily integrated into design workflows and enable designers to make critical adjustments or design decisions quickly, while reducing reliance on costly physical prototypes or overnight renders – saving precious time in bringing ideas to market.
To learn more about NVIDIA VCA Certified Systems and to see them in action, visit the PNY booth # 323 and our Select Partner Booths including: BOXX, Colfax, Exxact.
Demonstrations and displays at the PNY booth will include:
VCA CERTIFIED SYSTEM IRAY PHOTOREALISM ON DEMAND
Features eight ultra-high-end Quadro P6000 GPUs running SOLIDWORKS Visualize Professional and NVIDIA VCA software on a VCA Certified System, which offers unmatched stability and performance for mission-critical raytracing rendering workflows driven directly from CAD files.
VCA CLIENT WITH QUADRO P2000
Client workstation networked to the VCA Certified System for accelerated photorealistic raytracing rendering.
Read the PNY Press Release »
Download the Brochure »
Boxx Press Announcement »