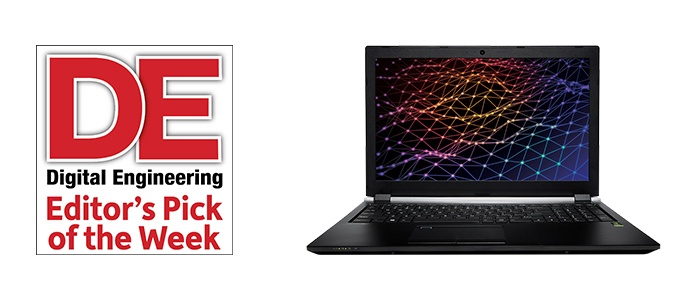 Early December was a momentous time for PNY. During the same week our PREVAILPRO series of ultra-thin and light Quadro powered mobile workstations started to ship to customers, it was selected for DE Editor's coveted Pick of the Week.
See why DE's Editor at Large, Anthony J. Lockwood, selected PNY's PREVAILPRO mobile workstations as his Pick of the Week.
Until recently mobile workstations really weren't very mobile, but with PREVAILPRO everything has changed. In fact, this is one of the reasons spotlighted by Tony Lockwood, editor at large for DE (Digital Engineering) when he selected the PREVAILPRO "engineering-class workstations" for DE's Editor's Pick of the Week. Impressed by the ultra-thin and light design he acknowledges that when it comes to performance PREVAILPRO is "heavyweight", delivering the compute and graphics power required by intensive design applications as well as immersive VR. The great news is that PREVAILPRO is now readily available from PNY's Authorized Partners.
Excerpts from DE article:
PNY Technologies has a new series of ultra-thin, light engineering-class workstations called the PREVAILPRO. Ultra-thin means a 0.73-in. thick low-profile design. Light means 4.8 lbs.
That's about it on that thin and light business. Everything else about these units seems heavyweight.
Today's Editor's Pick of the Week could really get people gawking … The top-shelf PREVAILPRO P4000 runs the 8GB NVIDIA Quadro P4000 GPU. It comes with 32GB of RAM, the 4K UHD high-res display and lots of storage. The PREVAILPRO P4000 can do anything its sibling [P3000] can do, like run simultaneous displays, handle complex modeling, rendering and other compute- and graphics-intensive apps. But that Quadro P4000 GPU also provides the fast response you need to work in and with VR (Virtual Reality). On a thin and 4.8-lb. mobile workstation. That should make the gawkers agog.
See why DE's Editor at Large, Anthony J Lockwood, selected PNY PREVAILPRO mobile workstations as his Editor's Pick of the Week.
Further details on the PREVAILPRO series »
Download the PREVAILPRO P3000 data sheet »
Download the PREVAILPRO P4000 data sheet »