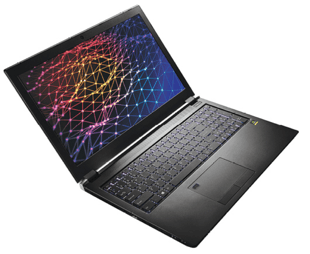 Digital Engineering (DE) reviewer David Cohn put the PNY PREVAILPRO Quadro P4000 based VR-Ready Mobile Workstation through extremely rigorous and comprehensive testing and concluded:
"…the new PNY PREVAILPRO P4000 definitely establishes itself as the lightest weight and lowest cost VR-ready 15.6-in. mobile workstation currently available—a distinction likely to be very attractive."
Going to GTC 2018? Experience the power and performance of the PREVAILPRO P4000 in a thin and light package at PNY's Booth #425. Make sure you check it out and enter the drawing to win your own PREVAILPRO!
The PNY PREVAILPRO P4000 packs a powerful 15.6-in. mobile workstation into a package the size of a 14-in. laptop.
Excerpts from Review
Thin and lightweight
Outwardly, all three PNY PREVAILPRO mobile workstations look identical. The systems come housed in a charcoal gray chassis measuring 14.96×9.8×0.73-in. and weighing only 4.84 pounds. The 150-watt power supply (6.19×2.94×1.0-in.) adds another 1.37 pounds.
Although the CPU includes integrated Intel Graphics 630, all three PNY mobile workstations also incorporate an NVIDIA Quadro discrete graphics card, reduced to a single chip. The two P3000 models use the Quadro P3000 (with 6GB of GDDR5 memory and 1280 cores), but the PREVAILPRO P4000 we received includes the NVIDIA Quadro P4000. This high-end GPU, based on NVIDIA's latest Pascal architecture, includes 8GB of GDDR5 discrete memory, 1792 CUDA parallel processing cores, a 256-bit interface and a bandwidth of 243 GB/second.
Lots of Ports
Raising the thin lid reveals the 15.6-in. display and a backlit 102-key keyboard and separate numeric keypad. A 4.25×2.37-in. gesture-enabled multi-touch trackpad with two buttons and an integrated fingerprint reader is located below the keyboard and a rectangular power button with a white LED is located to the upper right.
Performance
For our evaluation of the PNY PREVAILPRO P4000, we ran our standard battery of tests, beginning with the SPECviewperf test of graphics performance. With the high-end NVIDIA Quadro P4000 GPU, we expected great results. And for the most part, the P4000 delivered, even achieving the best score we've ever recorded for a mobile workstation on one of the datasets in this benchmark.