The universe of Media & Entertainment workloads is rapidly growing. From AI to real-time ray tracing, GPU-acceleration enables artists to achieve breathtaking results and create at the highest professional level with powerful and efficient solutions. NVIDIA's RTX™ platform brings greater productivity and realism to millions of creatives around the world through new GPU-accelerated features in top creative applications.

The NVIDIA® RTX continues NVIDIA's computer graphics innovation, catalyzing new applications that simulate the physical world at unprecedented speeds. Enhanced with new AI, ray tracing, and simulation technologies, RTX is a full-stack platform that enables incredible 3D designs, photorealistic simulations, and stunning visual effects—faster than ever.
Hundreds of commercial software applications have adopted GPU-acceleration, and over 50 creative applications have introduced RTX-enabled features, from AI-powered creative assistants to real-time ray tracing for virtual production.
NVIDIA's new Ampere-based architecture extends the RTX platform with second generation RTX GPUs, bringing exceptional performance and breakthrough innovations to millions of professionals. Featuring the latest-generation RT Cores, Tensor Cores, and CUDA Cores for unprecedented graphics, rendering, and AI performance, NVIDIA will continue to power the world's most advanced graphics solutions.
Millions of architects, designers, visual effects artists and creative professionals can experience their work in an entirely new ways using NVIDIA RTX professional GPUs – and take their productivity and creativity further than ever before. Application certification offers optimal performance and stability, while large GPU frame buffers work on the largest and most complex scenes, and smooth multi-application workflows.

Adobe Premiere Pro users can experience incredible speedups, up to 9x faster editing and rendering for their video workflows. Nearly 4x faster editing in lightroom for high resolution images, and speedups in Photoshop and Illustrator demonstrate faster video and image editing on RTX across the board.
Illustrators and designers can now benefit from ray tracing for package design. Ray Tracing lets designers see their designs in photoreal lighting conditions. They can better understand the effects of shiny, reflective surfaces or how translucent surfaces impact how objects will be seen.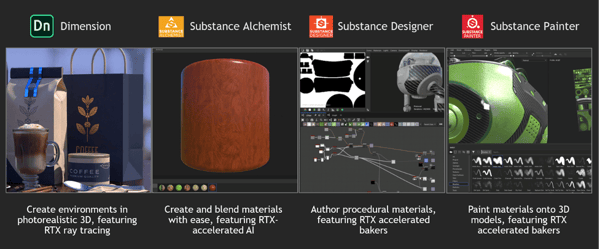 To create textures, artists can find interesting surfaces and take photos of them. Many times, there are problematic shadows or highlights that obstruct the real material detail that the artist wants to use. Previously, the only way to remove these lighting effects is to painstakingly mask out all the shadows and highlights in Photoshop which could take hours per picture.

Now, with a single click, an AI-powered DeLighter in Substance Alchemist automatically removes most of these problematic highlights and shadows, enabling much simpler, much faster material creation – up to nearly 19x faster than the CPU.
Using NVIDIA GPUs and the new AI Auto Reframe feature in Adobe Premiere Pro, videographers and editors can crop and re-frame footage to fit on smartphones or tablets, while automatically maintaining the focal point in frame. This feature is useful to editors and agencies that need footage adjusted for mobile viewing.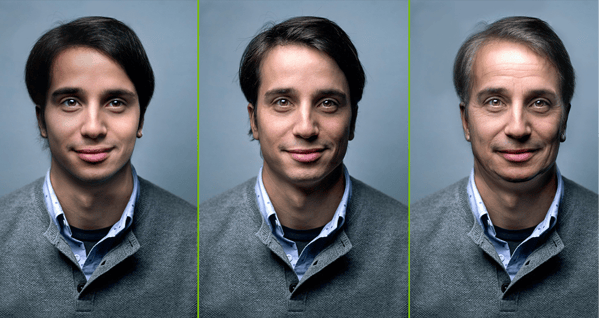 Adobe's recently-announced Neural Filters is a new way for artists to use AI-powered tools to explore creative ideas, making amazing and complex adjustments to images in seconds.
With Smart Portrait, artists are able to easily experiment with facial characteristics such as gaze direction and lighting angles, simply by dragging a slider.
Autodesk has also been playing a leading role with RTX. Autodesk Arnold, an advanced Monte Carlo ray tracing renderer for feature-length animation and visual effects, introduced RTX-accelerated ray tracing and AI denoising to enable artists to work efficiently and interactively at high quality. With GPU-acceleration using NVIDIA OptiX, Arnold thrives with large, complex datasets and scene files. Artists can get immediate and responsive feedback when tweaking shaders and adjusting lighting, giving them more time for artistic iterations. From real-time look development to interactive lighting, Arnold GPU brings speed and power to artist workflows, making it possible to work with near final quality renders at truly interactive rates. Arnold is up to 4x faster than CPU when rendering on a single RTX Workstation, and up to 17x on an 8-way RTX-based render node. Arnold is the default renderer that ships with industry leading 3D applications, Autodesk Maya and 3ds Max.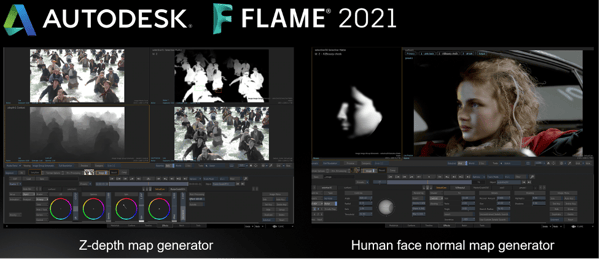 In Autodesk Flame, new machine learning features are dramatically accelerated with RTX Tensor cores. Artists can use the Z-Depth Map generator for live action scene depth reclamation to create effects based on distance from camera. Normal Map can also be extracted from faces for relighting, color, and cosmetic and beauty retouching. The new Physical Defocus feature provides precise depth of field and bokeh, and the new Refraction tool enables 3D objects to refract based on real-world material characteristics. Autodesk Flame includes support for multi-GPU and many other GPU-accelerated creative finishing and color grading features.

Chaos Group V-Ray GPU taps into the power of NVIDIA RTX to speed up production rendering with dedicated RT Cores for ray tracing and Tensor Cores for AI-accelerated denoising. With up to 18X faster rendering than CPU-based solutions and enhanced performance for large datasets with NVIDIA NVLink, providing incredible performance improvements for your rendering workloads. V-Ray GPU for Autodesk 3ds Max and Maya is out now with RTX acceleration. Other 3D applications are also in the works.

Blackmagic Design recently announced DaVinci Resolve's new DaVinci Neural Engine. The application includes new AI-powered features to make video editing and color grading more powerful and easier. Editors can up-res footage up to 4x with Super Scale. Other DaVinci Neural Engine features include automatic color matching, and organizing content by using facial recognition. Colorists can also use Neural Engine to learn styles from one clip and transfer it to another. Color grading and editing are up to 14x faster on Quadro® RTX, and DaVinci Resolve can take advantage of the compute power available in multiple GPUs.
Amping Up Creativity
NVIDIA and its partners are continuously evolving and advancing the state of the art for their customers, and there has been continuous forward momentum with each architecture. Each generation doesn't just include more memory and performance but also unique hardware features.

The NVIDIA RTX A6000 is the world's most powerful workstation GPU for visual computing, delivering unparalleled performance and capabilities to professionals for graphics-based workloads such as ray traced rendering, high-performance virtual workstations, simulation, 3D design, VR, AI and machine learning, and virtual production.
With up to 2X the throughput over the previous generation and the ability to concurrently run ray tracing with either shading or denoising capabilities, second-generation RT Cores deliver massive speedups for workloads like photorealistic rendering of movie content, architectural design evaluations, and virtual prototyping of product designs. This technology also speeds up the rendering of ray-traced motion blur for faster results with greater visual accuracy.
New Tensor Float 32 (TF32) precision provides up to 5X the training throughput over the previous generation to accelerate AI and data science model training without requiring any code changes. Hardware support for structural sparsity provides up to double the throughput for inferencing. Tensor Cores also bring AI to graphics with capabilities like DLSS, AI denoising, and enhanced editing for select applications.
With 48GB of GPU Memory as the new standard for the NVIDIA RTX A6000, professionals can scale up to 96GB with 2-way NVLink, making working with the largest models and datasets easier than ever before.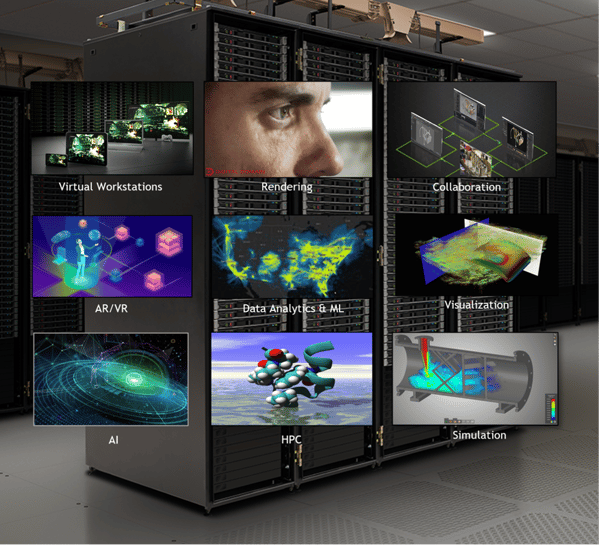 For data center and server deployments with passive cooling, the new NVIDIA A40 is the world's most powerful data center GPU for visual computing.
Every generation brings with it a wealth of new possibilities. With NVIDIA RTX and the new Ampere architecture for desktop and data center deployments – combined with powered GPU-accelerated applications – the possibilities are infinite.
To learn more about how NVIDIA is helping to expand the creative universe watch the On-Demand Webinar presented by NVIDIA and PNY: NVIDIA Studio Tools Roundup – GPU Acceleration and AI Enhanced Visual Applications