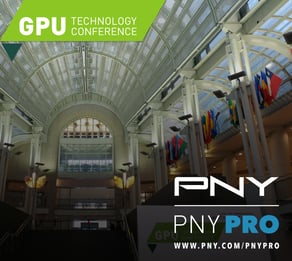 With more than 1,500 attendees, and over 30 technology demos, GTC DC was a huge success. PNY was proud to be a sponsor of GTC DC and have the opportunity to meet and discuss with attendees how NVIDIA Quadro solutions, including the new PREVAILPRO mobile workstation, can be part of their digital design workflow or AI development and deployment efforts.
From a real-life Hoverbike, possibly the world's biggest autonomous aerial delivery drone, to NVIDIA's Holodeck – where you strapped on a VR headset and worked with others to explore a photorealistic McLaren 720S supercar in real-time, at life-like scale, NVIDIA and its partners demonstrated how advanced graphics and AI will influence our lives in the future!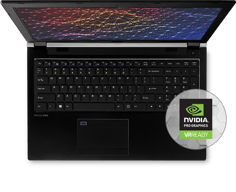 In the PNY booth there was a lot of interest in the dual GP100 + NVLink, which was installed in a standard chassis and enclosure, showing how this powerful compute-enabled GPU is capable of providing users with Machine Learning at their desk. The New PREVAILPRO P4000 mobile workstation also received a lot of attention. Showgoers were amazed by how thin and light is was, noted the clarity of the built-in 4K UHD screen, and appreciated the expansive screen real estate offered by 3 external 4K displays. With VR demonstrations being a big focus at the show, the VR-Ready capability of the PREVAILPRO P4000 was a big hit.
Many visitors were surprised to learn that PNY offers select Pascal GPUs in Embedded MXM modules, enabling PNY to offer high performance professional graphics options to customers needing smaller ruggedized systems featuring embedded GPUs. Two of PNY's partners, Wolf and Connect Tech, were at GTC DC presenting a variety of carrier boards and configurations utilizing PNY's MXM form factor Pascal GPUs.
Thanks to all the GTC DC attendees who visited our booth and we look forward to seeing you again next year!