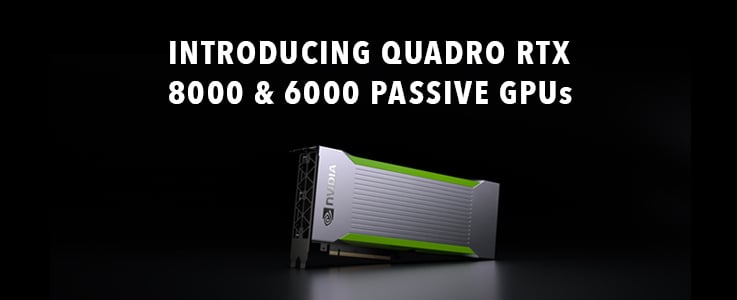 The introduction of passively cooled Quadro RTX 8000 and RTX 6000 GPUs enable the integration of RTX-powered solutions into existing (or future) server enclosures suitable for NVIDIA Tesla full-height and dual-slot width passively cooled boards – a change that significantly widens systems compatibility – and a first for any ultra-high-end Quadro product.
NVIDIA Quadro RTX features such as RT Cores for cinematic quality production ray-tracing, multi-precision Tensor Cores that accelerate AI/DL/ML/MV and big data analytics, or AI enhanced design and visualization tools, support for virtual GPU (vGPU) that brings Quadro performance with data center security to devices ranging from tablets to non-Quadro equipped mobile or desktop PCs, and ideal attributes for at the edge eXtended Reality (XR) AR and VR deployments in 5G and Wi-Fi 6 environments, are compelling and beneficial reasons for institutions to purchase NVIDIA RTX Servers.
NVIDIA authorizes and supports the utilization of NVIDIA Quadro RTX 8000 and RTX 6000 (actively or passively cooled) professional graphics boards in server enclosures for data center deployment to realize these use cases. All offer similar GPU performance, but the RTX 8000 option offers an unprecedented 48 GB of GPU memory, while the NVIDIA Quadro RTX 6000 provides 24 GB. All utilize ultra-fast GDDR6 with optional ECC, and NVLink offers GPU memory pooling for two cards, providing 96 GB or 48 GB respectively, along with performance scaling since GPU core counts are effectively doubled.
Passively cooled versions of the RTX 8000 and RTX 6000 are available across a much wider range of server chassis than their actively cooled counterparts, making Quadro RTX in the data center more accessible than ever before to offer previously unrealizable levels of performance and paradigm shifting capabilities – all with Quadro IT manageability.
Learn More:
Passively cooled Quadro RTX 8000
Passively cooled Quadro RTX 6000