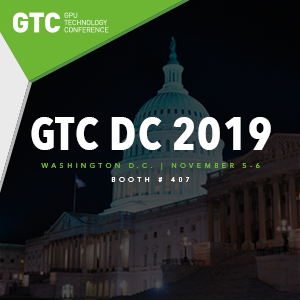 NVIDIA's GPU Technology Conference in Washington, D.C., the premier artificial intelligence (AI) event on the east coast, is less than two weeks away. As a proud sponsor of GTC DC, PNY is excited to demonstrate how NVIDIA-powered RTX servers featuring multiple Quadro RTX 8000 or RTX 6000 graphics boards, and solutions built with NVIDIA embedded Quadro GPUs, are answering tomorrow's visual computing, AI, and big data analytics questions today with unprecedented functionality and performance.
GTC DC is the event to attend if you need to know how to integrate AI into your work. You can connect with experts from PNY, NVIDIA and others at trainings, talks, panels, demos, and more. Choose from over 100 sessions and explore the latest breakthroughs in self-driving cars, healthcare, accelerated data science, cybersecurity, and other hot topics at the Ronald Reagan Building and International Trade Center.
We invite you to visit the PNY booth #407 and meet with our product and subject matter experts to receive a personalized demonstration to determine which NVIDIA Quadro RTX or embedded solution is right for your projects and workflow. You'll also have the opportunity to take a close look at an NVIDIA-Powered RTX Server as well as NVIDIA Embedded Solutions
PNY will showcase at GTC- DC:
WORKING SMARTER: NVIDIA RTX Server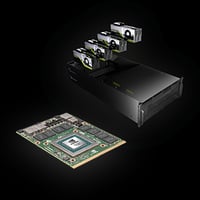 See how NVIDIA RTX Servers with up to ten Quadro RTX 8000 or RTX 6000 GPUs deliver unprecedented graphics , real-time ray tracing, rendering, simulating and AI or big data analytics performance to a single 4U rack mount enclosure. Support for NVIDIA's industry leading CUDA-X AI software development and deployment stack and ISV ecosystem makes NVIDIA RTX Servers an ideal option for data science or AI/DL/ML applications.
EMBEDDED PERFORMANCE: Quadro and Tesla MXM and GPU Down
For over fifteen years PNY Technologies has been NVIDIA's master channel partner across NALA and EMEAI – and the sole authorized NVIDIA Quadro and Tesla MXM Module and GPU Down (discrete Quadro GPUs) solution provider. Only PNY offers the latest Quadro RTX (Turing architecture) and prior generation Quadro (Pascal architecture) products with the full support and approval of NVIDIA. Learn more about these exciting offerings and program participation guidelines by visiting PNY's booth and talking to our embedded system specialists.
To arrange a meeting at the booth, contact: gopny@pny.com
Visit the GTC-DC landing page to learn more.
Watch the video: Top 5 Reasons to Attend GTC DC