Join PNY and NVIDIA for a live webinar on powering the most demanding workloads with NVIDIA® RTX™ Server, a highly flexible reference design that combines NVIDIA Quadro® RTX 8000 and RTX 6000 GPUs, with NVIDIA virtual GPU software and leading third-party applications to deliver exceptional compute power in a validated server system. From virtual workstations and rendering to scalable visualization systems and edge computing, NVIDIA RTX server validated systems deliver unprecedented performance at a fraction of the cost, space and power requirements of traditional CPU-based solutions.By joining this webinar, you will learn about:
GPU rendering capable of producing photorealistic final frames faster than ever before.
Improving data center utilization and reducing IT costs and maintenance by bringing the power of the NVIDIA Quadro RTX platform to a virtualized environment.
How AR and VR at the Edge will be impacted by cloud orchestration, 5G networks operations, and more.
Date

April 23, 2020

Time

1:00PM EDT

10:00AM PDT

Duration

1 Hour

Includes Q&A
Chance to Win
All live webinar attendees will be entered into a drawing for a chance to win an NVIDIA Quadro RTX 4000!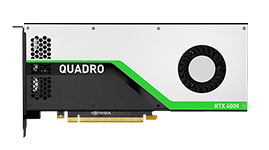 Speakers
Carl Flygare

NVIDIA Quadro Product Marketing Manager @PNY

Michael Kaplan

Director of Global Business Development for the Media and Entertainment Industry @NVIDIA

With 15+ years at PNY, Carl's deep knowledge of NVIDIA Quadro products, their underlying transformational technologies, unrivaled software development tools, and an extensive ISV ecosystem that delivers innovative solutions for at the edge and data center deployment, ideally qualify him for the NVIDIA RTX Server webinar. From AEC to Manufacturing and Media & Entertainment, Carl's knowledge of RTX graphics and AI enabled solutions will make this webinar a must attend event.

With over two decades of experience with Visualization and Data Center technology, Michael has been involved in projects ranging from Visual Effects (VFX), Artificial Intelligence, Virtualization and Virtual Reality. At NVIDIA, Michael oversees the group responsible for customer and partner interfacing for the RTX Server platform.