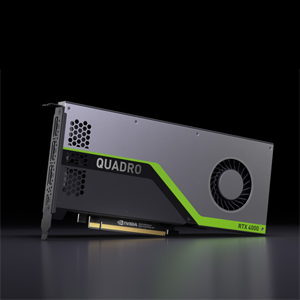 There was a lot of excitement in NVIDIA's booth at Autodesk University in LA this week with the launch of the Quadro RTX 4000 graphics board. Rounding out the Quadro RTX line-up, the Quadro RTX 4000 is NVIDIA's first mid-range, single-slot professional GPU powered by the NVIDIA Turing architecture and the NVIDIA RTX platform.
With the introduction of the Quadro RTX 4000, NVIDIA is bringing the power of realtime photorealistic ray tracing rendering to a wider range of architects, artists, developers, designers and engineers worldwide. Visitors to the NVIDIA booth at AU were able to see first hand the incredible application performance of the Quadro RTX 4000 as they experienced a realtime, immersive BIM walkthrough. By deploying the Enscape3D plugin and putting on an HMD, they could step inside a full-scale Autodesk Revit model and make changes in realtime.
Benefits of Quadro RTX 4000
Single Slot Design — Power-efficient, single-slot design that fits in variety of workstation chassis
Significant performance improvements — 8GB of ultra-fast GDDR6 graphics memory technology provides over 40 percent more memory bandwidth than the previous generation Quadro P4000.
36 RT Cores — enable real-time ray tracing of objects and environments with physically accurate shadows, reflections, refractions and global illumination.
288 Turing Tensor Cores for 57 teraflops of deep learning performance — accelerate neural network training and inference, which are critical to powering AI-enhanced rendering, products and services.
Hardware support for VirtualLink — new open industry standard meets the power, display and bandwidth demands of next-generation VR headsets through a single USB-C connector.
Improved performance of VR applications — new and enhanced technologies include Variable Rate Shading, Multi-View Rendering and VRWorks Audio.
Video encode and decode engines — accelerate video creation and playback for multiple video streams with resolutions up to 8K.
Availability
The Quadro RTX 4000 will be available from Authorized PNY Partners starting December 2018.