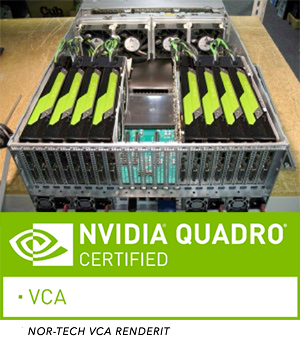 Nor-Tech, with the introduction of the Nor-Tech VCA RenderIT, is joining the growing list of PNY Partners providing VCA Certified Systems. Specifically built and rigorously tested for demanding designers and visual effects professionals, VCA Certified System are powerful network-attached appliances that harness the power of the highest performing NVIDIA GPUs to deliver photorealistic images on-demand and are tested for reliable, stable and secure enterprise use.
Every VCA Certified System passes an NVIDIA developed extensive qualification process prior to shipment, delivering unrivaled performance and stability for any multi-GPU rendering workflow. PNY Partner built VCA Certified systems allow customers to purchase from their regional, local, or vertically aligned system integrator or manufacturing partner. This better addresses the increasing demand for GPU accelerated rendering while providing the best purchase experience, support, product quality, stability, features, and performance available for your organization's needs.
NVIDIA VCA Certified Systems give you the best performance and scalability across increasingly demanding workflows for Manufacturing, AEC and M&E. GPU accelerated rendering, provided by VCA Certified Systems, meet the ever-growing needs for photorealistic rendering on-demand and predictable product design. In addition to NVIDIA Iray, VCA Certified Systems are compatible with GPU accelerated rendering applications such a Chaos Group V-Ray RT, SOLIDWORKS Visualize Pro and CATIA Live Rendering.
PNY VCA CERTIFIED SYSTEM PARTNERS