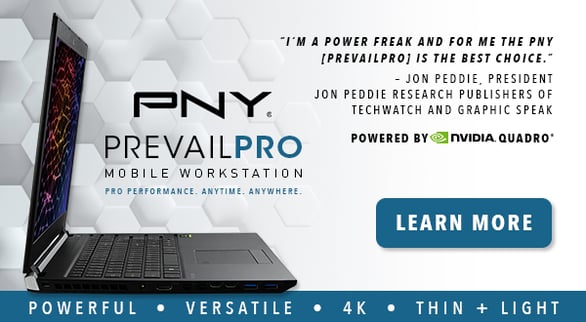 Powerful, 4K, thin and light advanced mobile workstations.
Powered by NVIDIA© Quadro© P4000 or P3000 GPUs, PREVAILPRO delivers powerful mobile workstation solutions in a thin and light form factor to professionals working with graphically challenging and compute intensive applications.
"I'm a power freak and for me the PNY [PREVAILPRO] is the best choice."

Jon Peddie
President
Jon Peddie Research Publishers
of TechWatch and Graphic Speak

"With our new Max-Q design and powered by Quadro P4000 and P3000 mobile GPUs, PNY's new PREVAILPRO lineup offers incredibly light and thin, no compromise, powerful and versatile mobile workstations."

Bob Pette
Vice President
NVIDIA Professional Visualization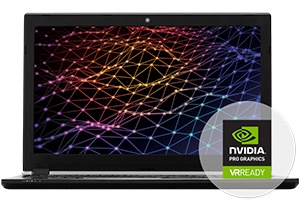 Whether you are developing revolutionary products, telling spectacularly vivid visual stories, designing transformational architecture, or creating immersive virtual environments, PREVAILPRO gives you the performance to do it brilliantly, anytime, anywhere.
FEATURES AT A GLANCE:
Powered by NVIDIA Quadro Pascal™ architecture professional GPUs
Workstation performance in a thin 0.73" (18mm) and light 4.8 lbs. (2.2kg) form factor
15" VR-Ready Mobile Workstation (P4000 GPU required)
Drives up to four 4K UHD (3840 x 2160) displays simultaneously
Intel© Core™ i7-7700HQ, up to 32 GB DRAM, 512 GB SSD and 2 TB secondary HDD
Dimensions: 14.96" x 9.8" x 0.73" (380mm x 248mm x 18mm) with 15.6" UHD Display
Watch the PREVAILPRO Trailer Video »

"PNY has a unique product that combines performance, connectivity, a relatively small weight and a thin form-factor."