NVIDIA RTX A6000
The visual computing highlight of GTC was the introduction of the NVIDIA® RTX™ A6000 –the latest professional graphics board based on the breakthrough NVIDIA Ampere architecture.
Performance Amplified

Unlock the next generation of revolutionary designs, scientific breakthroughs, and immersive entertainment with the NVIDIA RTX A6000, the world's most powerful visual computing GPU for desktop workstations. With cutting-edge performance and features, the RTX A6000 lets you work at the speed of inspiration, to tackle the urgent needs of today and meet the rapidly evolving, compute- and AI-intensive tasks of tomorrow. Here are some NVIDIA RTX A6000 features that offer exceptional performance by design:
NVIDIA Ampere Architecture-Based CUDA Cores
Double-speed processing for single-precision floating point (FP32) operations and improved power efficiency provide significant performance improvements for graphics and simulation workflows, such as complex 3D computer-aided design (CAD) and computer-aided engineering (CAE), on the desktop.
Second Generation RT Cores
With up to 2x the throughput over the previous generation and the ability to concurrently run ray tracing with either shading or denoising capabilities, second-generation RT Cores deliver massive speedups for workloads like photorealistic rendering of entertainment content, architectural design evaluations, and virtual prototyping of product designs. This technology also speeds up the rendering of ray-traced motion blur for faster results with greater visual accuracy.
Third Generation Tensor Cores
New Tensor Float 32 (TF32) precision provides up to 5x the training throughput over the previous generation to accelerate AI and data science model training without requiring any code changes. Hardware support for structural sparsity doubles the throughput for inferencing. Tensor Cores also bring AI to graphics with capabilities like DLSS, AI denoising, and enhanced editing for select applications.
Third Generation NVIDIA NVLink
Increased GPU-to-GPU interconnect bandwidth provides a single scalable memory to accelerate graphics and compute workloads and tackle larger datasets.
48 GB of GPU Memory
Ultra-fast GDDR6 memory, scalable up to 96 GB with NVLink, gives data scientists, engineers, and creative professionals the large memory necessary to work with massive datasets and workloads like data science and simulation.
PCI Express Gen 4

Support for PCI Express Gen 4 provides double the bandwidth of PCIe Gen 3, improving data transfer speeds from CPU memory for data-intensive tasks like AI and data science.
Power Efficiency
Featuring a dual-slot, power-efficient design, the RTX A6000 is up to 2x more power efficient than Turing GPUs and crafted to fit into a wide range of workstations or server enclosures that support actively cooled GPUs.
| | |
| --- | --- |
| GPU Features | NVIDIA RTX A6000 |
| GPU Memory | 48 GB GDDR6 with Error Correcting Code (ECC) |
| Display Outputs | 4x DisplayPort 1.4 | Can be turned off for vGPU use |
| Max Power Consumption | 300 W |
| System Bus | PCI Express Gen 4 x16 |
| Form Factor | 4.4" H x 10.5" L dual-slot |
| Thermal Management | Active Fansink |
| NVLink | 2-way low profile (2-slot and 3-slot bridges connects two RTX A6000 boards |
| vGPU Software Support | NVIDIA GRID, NVIDIA Virtual Data Center Workstation, NVIDIA Virtual Compute Server[1] |
| vGPU Profiles Supported | 1 GB, 2 GB, 3 GB, 4 GB, 6 GB, 8 GB, 12 GB, 16 GB, 24 GB, 48 GB |
| VR Ready | Yes |
[1] Virtualization support for the RTX A6000 GPU will be available in an upcoming NVIDIA virtual GPU (vGPU) release.
Expected Availability

The NVIDIA RTX A6000 will be available for shipment in December. Please contact PNY for updates and for additional technical specifications and benchmarking information, which is anticipated by mid-November.
GTC Fall NVIDIA CEO Keynote Highlights
NVIDIA CEO Jensen Huang detailed how innovation never sleeps at NVIDIA in his GPU Technology Conference "Kitchen Keynote" featuring major initiatives focused on data centers, edge AI, collaboration tools and healthcare in a talk released in nine segments.
Touching on everything from NVIDIA Omniverse to the metaverse, AI drug discovery (antivirals) to robotics for anyone, to major AI initiatives with Microsoft and American Express, Huang's message was compelling: AI is changing everything, putting NVIDIA at the nexus of changes that will touch every aspect of modern life.
Virtualization support for the RTX A6000 GPU will be available in an upcoming NVIDIA virtual GPU (vGPU) release.
PNY delivered an on-demand session titled "NVIDIA RTX Server – High Performance Computing in the Data Center" (A22430) with a focus on GPU virtualization, rendering, AI, and CAE. If you registered for GTC, you can view this recording on-demand.
Welcome to the Omniverse

Bringing together NVIDIA breakthroughs in graphics, simulation and AI, NVIDIA Omniverse is an RTX-based simulation, collaboration and rendering platform for 3D workflows. Omniverse users can collaborate on their 3D workflows live between applications without tedious and time-consuming imports and exports, and then render them with incredible fidelity using NVIDIA RTX. Sign up starting this fall for the open beta, which will run on the full range of NVIDIA RTX hardware – from NVIDIA Studio laptops to RTX-powered workstations and servers.
NVIDIA Broadcast Features Now in Your Favorite Streaming Apps

Released last month, the NVIDIA Broadcast app upgrades any room into a home broadcasting studio with AI-powered noise removal, virtual background and auto frame features. New SDKs that power NVIDIA Broadcast allow developers to integrate these AI capabilities directly into their apps. They'll be able to add noise removal to remove distracting background sounds, upscale content with AI or use augmented reality for advanced face tracking.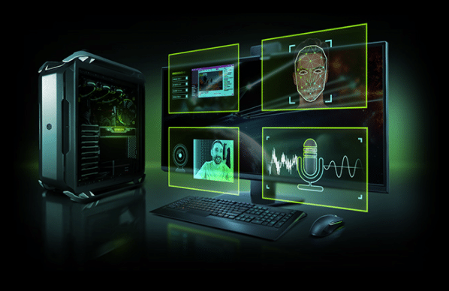 Popular streaming apps and plugins are already adding NVIDIA's state-of-the-art technology. Learn more about how XSplit, Notch, NDI and Xaymar are enhancing their applications.
GTC 2020

:

A

Cornucopia of Exciting Announcements
NVIDIA made many other significant and industry-defining announcements during GTC. Here are some highlights:
Extensions to NVIDIA Clara Medical AI Developer Framework
Focused on AI drug discovery, particularly the discovery of antiviral drug candidates, NVIDIA is equipping researchers around the globe with the power of AI to quickly screen, identify and develop new drugs. An NVIDIA DGX A100 SuperPOD-based supercomputer, Cambridge-1, is being built as part of this effort and NVIDIA is also teaming with GSK (GlaxoSmithKline) to build the world's first AI in-silico drug discovery lab.
NVIDIA and Microsoft Partner on AI
Microsoft is adopting NVIDIA AI to create Microsoft Office smart extensions that will enable future versions of its Office suite to transform from a set of tools to a proactive assistant.
Preventing Financial Fraud with AI
NVIDIA is teaming with American Express to utilize NVIDIA AI-based tools to identify suspicious transactions with an eye towards fraud and cybercrime prevention. In an increasingly digital economy, where your wallet is just an extension of bits on a bank's IT system, this is a clear example of AI for the public good.
NVIDIA EGX Edge AI Platform
The NVIDIA EGX Edge AI platform focuses on AI inferencing at the point of activity, essentially acting as an intelligent 'pre-processor' before sending AI-generated results to the data center or the cloud. More information on the full scope of solutions and product offerings the EGX platform encompasses will be made available later this year.
NVIDIA is Enhancing GPU Virtualization to Improve WFH
By placing essential NVIDIA RTX GPU resources in the data center, and offering full NVIDIA RTX features and benefits via NVIDIA Virtual Data Center Workstation or Virtual Compute Server software, creative, design, healthcare, media and entertainment, and scientific and technical professionals (to name a few) are reinventing work for those working from home (WFH). PNY is proud to be a part of this initiative to enable better WFH experiences, enable more people to WFH, and utilize AI and collaboration enhanced virtual tools to restore productivity.
At NVIDIA Innovation Never Sleeps
This blog is a mere appetizer next to the vast banquet of introductions, announcements, and industry changing technologies announced at GTC. To learn more visit NVIDIA's website since, as a virtual event, GTC in its entirety will be available online. Check NVIDIA's website to stay in touch with the implications and reverberations of GTC throughout the balance of 2020.
At PNY Passion for NVIDIA Solutions Never Sleeps
To learn more about the NVIDIA Ampere Architecture or the NVIDIA RTX A6000 visit PNY's website or email gony@pny.com.