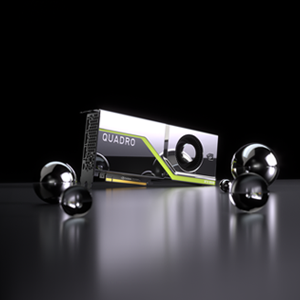 PNY and NVIDIA are pleased to introduce the solution to today's and tomorrow's most demanding professional graphics, AI or HPC needs, the NVIDIA Quadro RTX 8000. Designed to meet the demands of customers looking to drastically improve the quality of their renderings, take advantage of breakthrough new AI-based software features, create seamless virtual reality experiences, or dramatically increase productivity by reducing the time required to perform essential and repetitive tasks, due to unmatched GPU performance and features; the Quadro RTX 8000 represents the next step in GPU-driven solutions.
Integral to both producing a life-like virtual experience through Ray Tracing and conducting Deep Learning-enabled tasks, the NVIDIA Turing architecture within the NVIDIA Quadro RTX 8000 is the most powerful AI available. Able to derive actionable results through analytical deep-dives, NVIDIA's Turing AI represents a sophisticated leap from science fiction to functional fact.
When the considerable power of one Quadro RTX 8000 can't meet your needs, NVIDIA NVLink™ enables you to combine the power of two, increasing your available GDDR6 RAM from 48 GB to an incredible 96 GB. Effectively doubling what is already a staggering capacity, NVlink introduces the answer to tomorrow's demands with today's technology.
More than a leap in processing power, the Quadro RTX 8000 offers solutions for the high-end Virtual Reality user. VirtualLink® simplifies the tangles of wires plaguing the VR experience down to one port, futureproofing your system for the next generations of HMD (Head Mounted Displays). Interacting with scalable models, sharing a virtual collaborative space, and exploring 3D environments has never been easier with VirtualLink and the Quadro RTX 8000.
With 72 RT cores devoted to the seamless function of real-time Ray Tracing and 576 Tensor cores designated for operating the onboard AI, 130 Teraflops of calculations pour into your every project. Never be without the power necessary to fulfill your potential, again.