In this blog, we are excited to share some benchmarks comparing the NVIDIA RTX™ 4000 SFF Ada Generation and RTX A2000 12GB GPUs. Today we're featuring a small form factor workstation, the EdgeCube, from one of our partners, ClearCube Technology. If you didn't watch our ClearCube Partner Spotlight Video reviewing the EdgeCube system featuring an RTX A2000 12GB, we encourage you to check it out.
NVIDIA RTX 4000 SFF Ada Generation Overview
The NVIDIA RTX 4000 SFF Ada Generation delivers full-size performance in a compact form factor. Built on the NVIDIA Ada Lovelace architecture, the RTX 4000 SFF integrates 48 third-generation RT Cores, 192 fourth-generation Tensor Cores, and 6,144 CUDA® cores with 20GB of graphics memory to deliver remarkable acceleration for rendering, AI, graphics, and FP23 (single-precision) compute workloads. Workstations powered by the RTX 4000 SFF such as the EdgeCube give professionals the necessary performance, reliability, and versatility to stay ahead of the curve and succeed in today's competitive business landscape without sacrificing performance.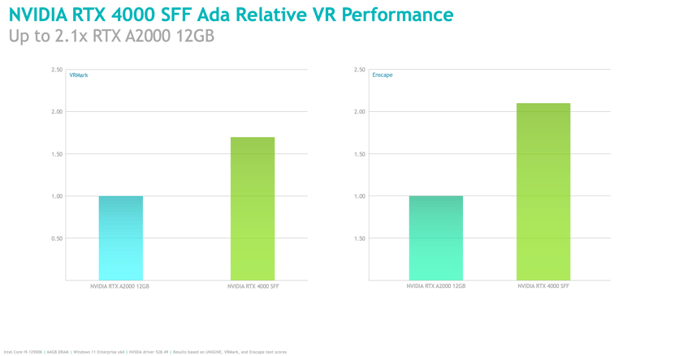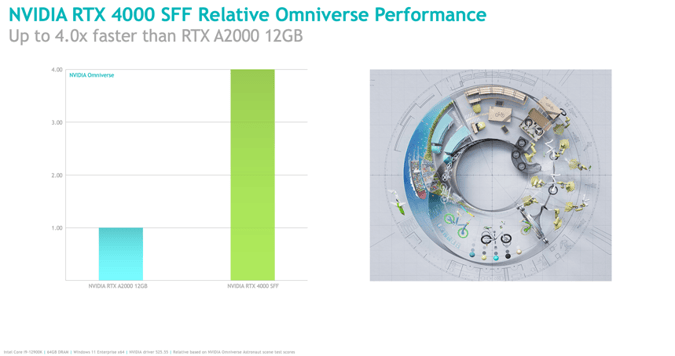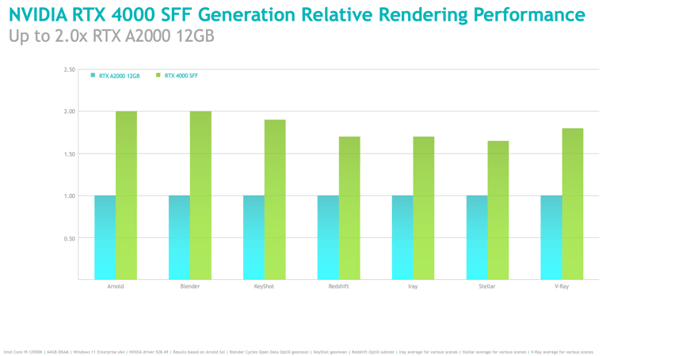 Benchmark Overview:
As you see from these benchmarks, the RTX 4000 SFF offers a two times performance advantage overall when compared to the previous generation RTX A2000 12GB and up to four times in NVIDIA Omniverse. All results demonstrate how the NVIDIA Ada Lovelace GPU architecture, as implemented by the RTX 4000 SFF, brings new levels of performance, features, and capabilities to compact workstations, continuing to drive the evolution of visual computing for professionals.