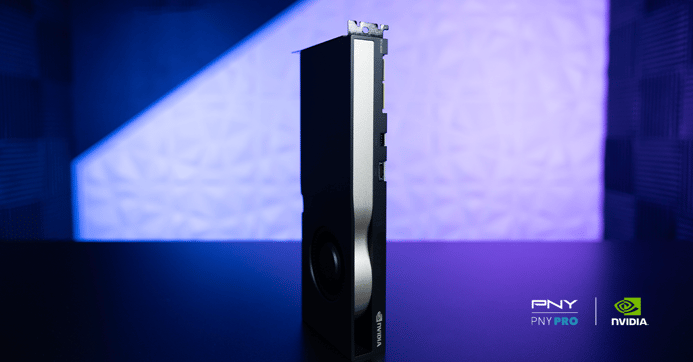 In the fast-paced world of technology, groundbreaking advancements have revolutionized the way professionals work. Through offerings from PNY, NVIDIA RTX technology, known for unleashing the power of real-time ray tracing, AI, and advanced graphics, has already made a significant impact on industries like design, art, science, and research. Taking it to the next level, the NVIDIA Ampere architecture introduced the world to the second generation of NVIDIA RTX, ringing in a new era of immersive experiences and unparalleled performance. At the forefront of this innovation stands the NVIDIA RTX A5000, a versatile, blazingly powerful GPU that aims to spearhead the future of creativity and productivity.
Unleashing Unprecedented Power:
The NVIDIA RTX A5000 is built on the groundbreaking NVIDIA Ampere architecture, which strikes an ideal balance between power, performance, and memory. Featuring an impressive arsenal of hardware, the RTX A5000 combines 64 second-generation RT Cores, 256 third-generation Tensor Cores, and a staggering 8,192 CUDA cores. This amalgamation of raw processing power allows professionals to supercharge rendering, AI, graphics, and compute tasks, pushing the boundaries of what's possible across industries.
A Beast for Memory-Intensive Tasks:
One of the standout features of the RTX A5000 is its colossal 24 GB of GDDR6 graphics memory with ECC support. This abundant memory empowers professionals to tackle memory-intensive tasks with ease, including natural language processing and running high-fidelity simulations to enhance product development processes. But the possibilities don't end there – for those who require even more memory, the RTX A5000's NVLink support enables users to connect two GPUs for an impressive 48 GB of combined GPU memory. This makes it ideal for handling larger models, renders, and scenes with utmost efficiency.
Performance at a Glance:
Numbers speak louder than words, and the RTX A5000 has plenty to boast about in that department. With 8,192 CUDA cores, 256 Tensor Cores, and 64 RT Cores, this GPU delivers exceptional single-precision performance, offering a staggering 27.8 TFLOPS. The RT Cores play their part by delivering 54.2 TFLOPS of ray tracing performance, while the Tensor Cores provide an incredible 222.2 TFLOPS of AI processing power. These performance highlights make the A5000 an absolute powerhouse, empowering professionals to bring their creative visions to life in ways previously unimaginable.
Versatility Meets Enterprise Deployment:
The RTX A5000 is not only for individual artists and designers as it also caters to enterprise needs. With support for NVIDIA virtual GPU software, the RTX A5000 offers increased versatility for large-scale deployments. Whether it's rendering complex models or running AI-driven simulations on a server, the A5000 rises to the occasion, helping ensure maximum productivity for the most demanding workloads.
With support from PNY, the RTX A5000 is a game-changer, providing balanced power, performance, and memory to usher in a new era of innovation. Its exceptional capabilities redefine the possibilities for professionals in design, art, science, and research, unleashing a world of creative potential. With the NVIDIA Ampere architecture as its foundation, the RTX A5000 is poised to revolutionize industries, empower visionaries, and pave the way for a brighter, more creative future. So, whether you're an artist, a researcher, or a data scientist, get ready to unleash the power of tomorrow's innovations with the NVIDIA RTX A5000.
NVIDIA RTX A5000 In Stock and Available to Order
Available now through PNY, the NVIDIA RTX A5000 combines the latest-generation RT Cores, Tensor Cores, and CUDA cores with 24GB of graphics memory to deliver a robust desktop experience for designers, engineers, and artists to create the future. Contact GOPNY@PNY.COM for more information.
For Higher Education Institutions Only, Take Advantage of Special Savings
For a limited time, the highest-performance NVIDIA RTX 6000 Ada, RTX A6000, RTX A5000, RTX A4500, and RTX A4000 professional graphics cards are available at special pricing, allowing you to get the performance you need and remain within budget!