Given the tragically timely topic this will not be a typical blog posting. It will focus more on telling and less on selling – but will callout an exciting opportunity for medical imaging system and device manufacturers – that can benefit from NVIDIA Pro GPU acceleration.

Healthcare is transitioning to personalized medicine, reimagining clinics, embracing telemedicine, enhancing quality of care, utilizing AI and increasingly relying on breakthroughs in biomedical research to treat disease, all of which demand new computing paradigms which NVIDIA RTX (and other) professional GPUs are ideally positioned to provide.
NVIDIA Pro GPUs and the Pandemic
The COVID-19 pandemic raging around the world is also driving GPU-based healthcare innovation at unprecedented rates. A particularly striking example is an MIT-developed AI model that detects asymptomatic COVID-19 infections through cellphone-recorded coughs — potentially providing a convenient and ubiquitous screening tool for people who may not suspect they are infected.
Asymptomatic individuals infected with COVID-19 exhibit, by definition, no discernible physical symptoms of the disease. Because of this they are less likely to seek testing for the SARS-CoV-2 virus and could unknowingly spread the infection to others.
But people who are asymptomatic exhibit subtle changes due to the virus. MIT researchers found that asymptomatic individuals differ from healthy ones in the way that they cough. These differences are not discernible to the human ear, but it turns out they can be detected by AI.
The researchers trained the model with tens of thousands of sample coughs, along with spoken words, and when they fed the model new cough recordings it accurately identified 98.5% of coughs from people who were COVID-19 positive, including 100 percent of coughs from asymptomatic individuals – who reported they did not have symptoms but had tested positive for the virus.
MIT is now working on integrating the trained AI into a user-friendly app, which if FDA-approved and adopted on a large scale could potentially be a free, convenient, noninvasive prescreening tool to identify people who are likely to be asymptomatic for COVID-19. You could simply launch the app, cough into your phone, and instantly get feedback on whether you might be infected — and immediately take steps to break the transmission chain by observing proper isolation protocols — which could dramatically reduce transmission rates if widely adopted across a given municipality, county, province or country.
The power to develop, train, and generate inferencing for the app won't run on your phone – digital audio of coughs is sent to the cloud where it is processed by GPUs, such as NVIDIA's class leading NVIDIA Quadro RTX series products, or the next generation NVIDIA RTX A6000 professional graphics board or the NVIDIA A40 optimized for server enclosures that accept passively cooled boards.
NVIDIA Pro GPUs are also fighting COVID-19 with an unprecedented fusion of simulation, AI, data analytics and visualization to realize a new era of scientific computing. Some of the applicable tools available as part of NVIDIA's scientific computing platform include:
In genomics, Oxford Nanopore Technologies was able to sequence the virus genome in just 7 hours using NVIDIA GPUs.



In infection analysis and prediction, the NVIDIA RAPIDS team has GPU-accelerated Plotly's Dash, a data visualization tool, enabling clearer insights into real-time infection rate analysis.



In structural biology, the U.S. National Institutes of Health and the University of Texas, Austin, used GPU accelerated CryoSPARC software to reconstruct, with atomic scale precision, the first 3D structure of the virus protein using cryogenic electron microscopy.



In treatment, NVIDIA worked with the National Institutes of Health to build an AI which accurately classifies COVID-19 infections based on lung scans so efficient treatment plans can be devised.



In drug discovery, Oak Ridge National Laboratory ran the Scripps Research Institute's AutoDock on the NVIDIA GPU accelerated Summit Supercomputer to screen a billion potential drug combinations in just 12 hours.
The reason NVIDIA Pro GPUs play a role in so many efforts, across so many areas of healthcare, is because of their strong focus on providing end-to-end workflows for the scientific computing community.

For data analytics, NVIDIA accelerates key frameworks like Spark 3.0, RAPIDS and Dask. This acceleration is built using their domain-specific CUDA-X libraries for data analytics such as cuDF, cuML and cuGRAPH, along with I/O acceleration technologies from Magnum IO.
These libraries contain millions of lines of code and provide seamless acceleration to developers and users, whether they're creating applications on desktops accelerated with NVIDIA Pro GPUs or running them in data centers, in edge computers, in supercomputers or in the cloud.
Similarly, NVIDIA Pro GPUs accelerate over 700 HPC applications, including all the most widely used scientific applications.
NVIDIA accelerates all frameworks for AI, which has become crucial for tasks where the information is incomplete — particularly those with no first principles to work from or when first principle-based approaches are too slow.
Thanks to NVIDIA's roots in visual computing, NVIDIA Pro GPUs are the preferred option for providing accelerated visualization solutions, so terabytes of data can be visualized. Seeing the problem helps to solve the problem.
An Application Framework Optimized for Healthcare and Life Sciences
NVIDIA Clara is a healthcare application framework for AI-powered imaging, genomics, and for the development and deployment of smart sensors. It includes a full-stack of GPU-accelerated libraries, SDKs and reference applications for developers, data scientists and researchers to create real-time, secure and scalable solutions.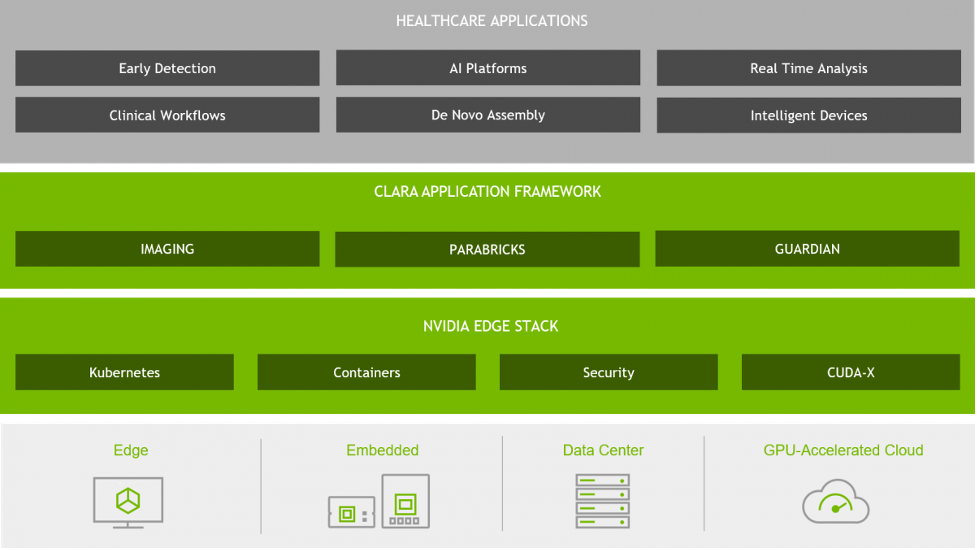 NVIDIA Clara for Medical Imaging
Today, NVIDIA Pro GPUs are found in almost all medical imaging technologies, including CT, MRI, X-ray and ultrasound — bringing compute capabilities to edge devices. With the boom of deep learning research in medical imaging, more efficient and improved approaches are being developed to enable AI-assisted workflows through GPU-enabled techniques and methodologies.
With the latest release of the NVIDIA Clara application framework, developers have the necessary tools and APIs to carry out AI development, as well as introduce AI capabilities to medical devices through embedded hardware (e.g. MXM or GPU down).
NVIDIA Clara for Genomics
Clara Parabricks is a computational framework supporting genomics applications from DNA to RNA. It employs NVIDIA's CUDA, HPC, AI, and data analytics stacks to build GPU accelerated libraries, pipelines, and reference application workflows for primary, secondary, and tertiary analysis. Clara Parabricks is a complete portfolio of off-the-shelf solutions coupled with a toolkit to support new application development to address the needs of genomic labs.

NVIDIA Clara for Smart Hospitals
NVIDIA Clara Guardian is an application framework and partner ecosystem that simplifies the development and deployment of smart sensors with multimodal AI, anywhere in a hospital or clinic.
Using Clara Guardian's software stack, AI application developers can leverage healthcare specific pre-trained models, develop and deploy intelligent video analytics powered by NVIDIA DeepStream, and automatic speech recognition and natural language processing solutions powered by NVIDIA Jarvis conversational AI software. Combined with the NVIDIA EGX Edge AI Platform, based on NVIDIA Pro GPUs, which provides for the secure management of fleets of devices, Clara Guardian can safely and easily deploy AI applications across hundreds of edge devices.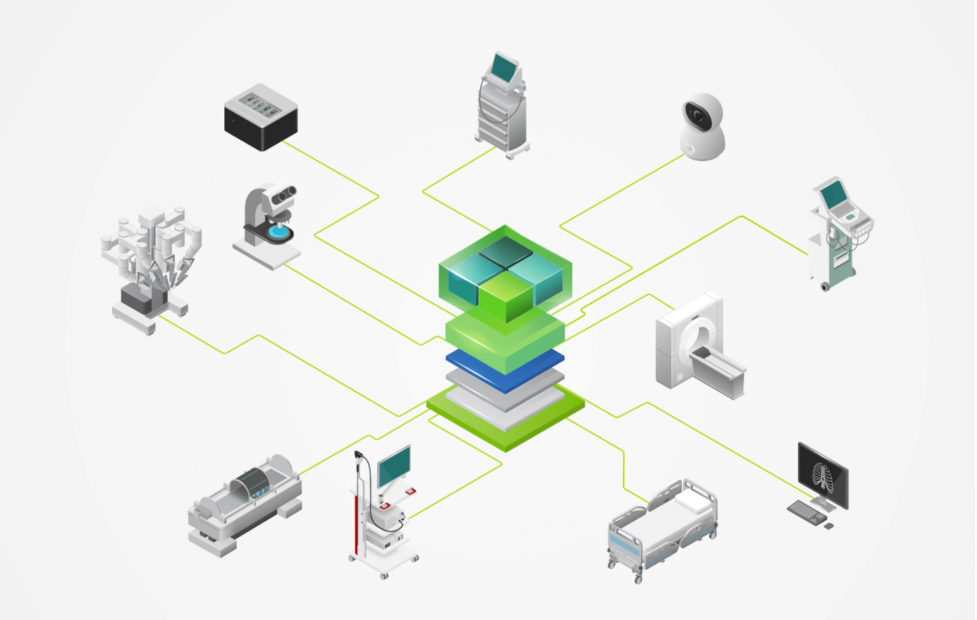 Next Steps — and a Timely Opportunity
These are just some highlights covering how NVIDIA Pro GPUs are fighting an insidious and deadly black swan pandemic, transforming healthcare and improving patient outcomes. With this in mind now is the time for medical imaging or device developers and manufacturers to take advantage of special savings on select NVIDIA Quadro RTX GPUs. As you know medical products are developed, released and utilized in a highly regulated environment. NVIDIA Quadro and NVIDIA RTX pro graphics boards offer significant advantages over consumer graphics boards. PNY currently has a special Healthcare Discount program in place to offer evaluation and development NVIDIA Quadro RTX 6000 and RTX 5000 boards to companies who develop and sell medical solutions requiring GPU features and benefits. For more information, and to see if you qualify for the Healthcare Discount, contact your PNY Account Manager or email gopny@pny.com
NVIDIA pro graphics products offer significant advantages over consumer gaming products including:
Long product lifecycles



Documented at every stage of the lifecycle with PCNs (Product Change Notices)



Locked VBIOS, CVBIOS (custom VBIOS), and locked BOM options once NVIDIA Quadro is designed into your product



Hardware features like ECC (Error Correction Code) and greater GPU memory capacity than typical consumer graphics boards



Far more flexible, versatile, capable, and feature rich drivers in medical use cases and other contexts than any consumer graphics driver
Live Webinar : How NVIDIA RTX is Changing Healthcare
Join Rupali Deshpande, NVIDIA's Global Partner Business Manager for Medical Instruments and Carl Flygare, PNY's NVIDIA Quadro Product Marketing Manager for a live webinar on how NVIDIA's Healthcare solutions including NVIDIA RTX GPUS are improving efficiency and accuracy in Healthcare workflows. All live webinar attendees will be entered into a drawing for a chance to win a NVIDIA Quadro RTX 4000!
Date: February 11, 2021 Time: 9:00am PDT / 12:00pm EDT
Register at https://pnypartners.com/healthcare-webinar/
Contact your PNY Account Manager or email gopny@pny.com for more information on how NVIDIA's Healthcare solutions including NVIDIA RTX GPUS can help improve your healthcare workflow, and to see if you qualify for the Healthcare Discount.
Thanks for your time and consideration – and stay safe!