Unprecedented Turing Performance and Features for Small Form Factor Workstations
Compact desktop computing solutions are becoming more common as professionals look to minimize their desktop workstation footprint—without compromising performance. Today's professional workflows require small form factor workstations that provide full-size features and performance in a compact package.
Built on NVIDIA® Turing™ GPU architecture, the NVIDIA T1000, T600, and T400 are powerful, low profile solutions that deliver the performance and capabilities required by demanding professional applications, in compact professional graphics cards.
The T1000, T600, and T400 allow you to work with larger models, scenes, and assemblies, with higher levels of interactivity during design and visualization. They all deliver hardware compatibility and stability through NVIDIA support of the latest OpenGL, DirectX, Vulkan, and NVIDIA CUDA® standards, deep ISV developer engagements, and certification with over 100 professional software applications. Capable of creation and playback of H.264 and HEVC video, all feature dedicated decode and encode engines that are independent of the 3D graphics and compute pipeline.

With support for DisplayPort 1.4 any of the small form factor powerhouses can drive display resolutions up to four 5K displays or two 8K displays per card (T400 resolution tops out at 5K). Combine up to four NVIDIA boards in a single system to create display walls or other immersive environments. All of these exciting new offerings let you experience stunning visuals with HDR color support and up to 120 Hz refresh rates for 4K displays with 30-bit color.

NVIDIA RTX Desktop Manager software offers intuitive window management, multiple desktops, and application management that enable you to spread work across a single large display or multiple displays. NVIDIA Mosaic™ is also supported for digital signage or display walls.

Benefits of NVIDIA Turing

The Turing GPU architecture features the following advanced shader technologies: Mesh Shading utilizes a compute-based geometry pipeline to speed geometry processing and culling on geometrically complex models and scenes. Mesh shading provides up to 2x performance improvement on geometry-bound workloads.

Turing's advanced Streaming Multiprocessor (SM) architecture combines shared memory and L1 cache to significantly improve performance, while simplifying programing and reducing the tuning required to attain best application performance. Each SM contains 96 KB of L1 shared memory, which can be configured for various capabilities depending on compute or graphics workload. For compute cases, up to 64KB can be allocated to the L1 cache or shared memory, while graphics workload can allocate up to 48 KB for shared memory; 32 KB for L1 and 16KB for texture units. Combining the L1 data cache with the shared memory reduces latency and provides higher bandwidth.

The highly optimized Turing GDDR6 memory subsystem effectively doubles memory bandwidth for twice the throughput from the previous generation, making any of these boards an ideal platform for 3D professionals working in high resolution, large model or scene size, and multi-display environments.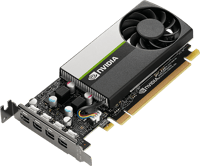 NVIDIA T1000

With 896 CUDA Cores, 4 GB of GDDR6 GPU memory, 160 GB/s of memory bandwidth, 4x mDP 1.4 outputs, all in a low-profile single slot form factor, with a 50 W power envelope, the T1000 is the most powerful low-profile professional graphics board available today from NVIDIA.

Learn more >>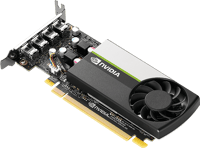 NVIDIA T600

640 CUDA Cores teamed with 4 GB of GDDR6 GPU memory, 160 GB/s of memory bandwidth, 4x mDP 1.4 outputs, with a thrifty 40 W maximum power consumption will make the T600 a popular and powerful choice.

Learn more >>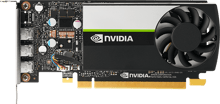 NVIDIA T400

484 CUDA Cores and 2 GB of GDDR6 GPU memory, 80 GB/s of memory bandwidth, 3x mDP 1.4 outputs (4x displays supported with multi-stream technology), and an efficient 30 W power requirement let any pro user join the NVIDIA professional graphics community, and easily outperforms integrated graphics.

Learn more >>
PNY PRO looks forward to serving your professional graphics, visualization, compute, AI, and data center GPU needs. The T1000, T600, and T400 may be small in size, but they offer great price/performance, outstanding features, and significant benefits to professionals or IT departments who want to offer big boosts in productivity, in small form factor, energy efficient systems, with full remote management and configuration facilities. For additional information, contact gopny@pny.com