Founded in 1992, EXXACT's technology solutions enable many of the world's top national labs, research institutes, universities, startups, and Fortune 1000 companies to conduct cutting-edge artificial intelligence, drug discovery, and advanced engineering simulations, while also powering a host of other HPC, datacenter, and visualization applications.

As computational challenges increase in complexity, EXXACT's engineers provide the right balance of computation, networking, storage, and memory in order to deliver reliable and balanced application performance. They include testing and benchmarking a range of HPC and AI software, from custom proprietary code to the most popular open-source frameworks.
NVIDIA A100
The NVIDIA® A100 GPU accelerates workloads big and small and is ideal for markets such as High-Performance Computing, AI, Machine Learning and Deep Learning, Simulation, CAE (or any other application requiring FP64) precision, along with Scientific and Technical computing, either across Life Science or the Physical Science disciplines and more.
NVIDIA A100 Benchmarks
System Specs:
2x NVIDIA A100 Data Center GPUs, up to 4x with NVLink optional
2U Rackmount GPU System
AMD EPYC 7763 64-Core, 128-Thread, 2.45GHz Base Clock, 256MB Cache – 280W
Rocky Linux 8.6 Operating System
8x 256GB DDR4-3200MHz RDIMM ECC Registered Memory
1x 4TB NVMe M.2 SSD
1x 20TB 3.5" SATA HDD (and room to grow with 8x 2.5"/3.5" drive bays: 6x SATA, 2X SATA/NVMe Native + 1x NVMe M.2)
6x PCIe 4.0 16x Slots (4x Double Wide GPU + 2x 16x LP/HL Slots)
2x GbE Onboard, Dedicated GbE Management Port
2200W (1+1) 80 PLUS Platinum Redundant PSU, 50-60Hz, 100-240V, Auto-Switching
Exxact Machine Learning Images (EMLI) software stack installed to accelerate AI research prototyping and production deployment.


Performance Benchmarks
EXXACT benchmarked four NVIDIA A100s versus two and delivered the resulting performance benchmarks to PNY. When running RELION for electron cryo-microscopy structure determination, four NVIDIA A100s had a GPU runtime of 40.03 seconds vs 78.05 seconds using just two NVIDIA A100s. The total runtime for four NVIDIA A100s was also roughly half that of two NVIDIA A100s: 52.60 seconds vs 103.15 seconds.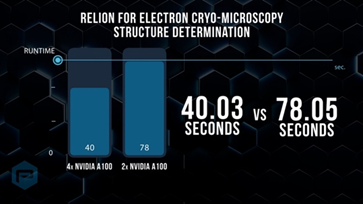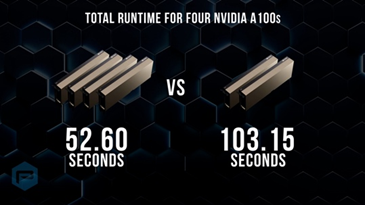 We want to thank EXXACT for being a 20-year PNY partner and allowing PNY access to their server powered by NVIDIA A100 Data Center GPUs. You can learn more on their website and configure a system tailored to your specific needs. While specifying your system, don't forget to include NVIDIA Networking solutions such as InfiniBand Switches for High Performance Computing, industry leading Ethernet Switches for an open end-to-end architecture from the Switch to the Server, with real-life tested interconnects for the highest possible performance and reliability, and the lowest overall system latency.