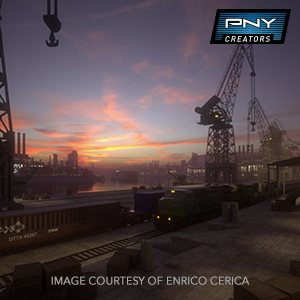 At PNY PRO we are always excited to see and share the spectacular designs our customers create using NVIDIA graphics boards. To celebrate the launch of the latest RTX GPUs from NVIDIA, we are inviting our talented creators to participate in the new RTX for Creators contest, which offers the chance to win an NVIDIA Quadro GPU. We will share some of the entries received throughout the contest on our web site. To enter the contest or view examples of creations submitted, visit: www.pny.com/creators
PNY PRO is challenging all NVIDIA users to create a visually compelling design using at least one 3D software modeling and rendering application. All participants can upload up to three images/videos of their original work; the images should be at least FHD (1080p) 1920 x 1080 resolution. The RTX Creators Contest will run until June 30, 2019 and the wining entry will receive an NVIDIA Quadro P2000.
The NVIDIA Quadro P2000, featuring 1024 CUDA Cores and 5GB GDDR5 of on-board memory, is the perfect balance of performance, compelling features, and compact form factor delivering incredible creative experience and productivity across a variety of professional 3D applications. This makes it an excellent choice for accelerating content creation workflows that demand fluid interactivity with large, complex 3D models and scenes.
PNY will randomly select one winner on July 5 and announce the winner by direct messaging, by email and posting a tweet of the winner on Twitter, Facebook and Instagram @PNY_PRO.
We look forward to viewing the entries and sharing them on www.pny.com/creators