Founded in 1997, ClearCube is a USA-based manufacturer specializing in creating innovative secure endpoint devices, centralized computing, and desktop virtualization solutions.
ClearCube secure endpoint devices like zero clients, thin clients, KVM-based desktop consolidation, blade PCs, and VDI with HCI for centralization and virtualization initiatives have enjoyed widespread adoption. Over the last few years, as local and edge computing has grown, ClearCube has developed a set of mini PC and small enclosure workstation systems to deliver on their mantra of clearing the cube of the clutter.
The system we are highlighting today is ClearCube's EdgeCube featuring the NVIDIA RTX A2000 12GB professional GPU. The EdgeCube is available in three pre-configured models serving as ready-to-deploy solutions or you can customize the configuration to meet your specific needs. If you require a completely custom build, they offer the option to select from wide-ranging menu options that allow you to build a configuration for your specific needs.
EdgeCube System Specs:
● GPU: NVIDIA RTX A2000 12GB professional GPU in a x16 PCIe Gen4 slot
● CPU: Intel i5 12500 processor
● Memory: 32GB DDR4 3200MHz Memory Kit
● Storage: PNY 480GB SSD for storage and you have M.2 M keys allowing for extra storage
● Chassis: EdgeCube with an impressive 8.25" x 8.25" x 3.4" form factor, a sub-4-liter case that can fit 2 in a 2U rack space or sit comfortably on desktops vertically or horizontally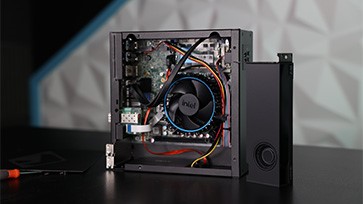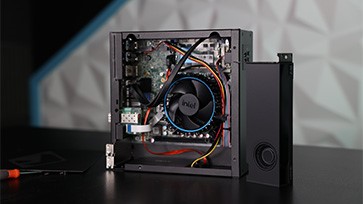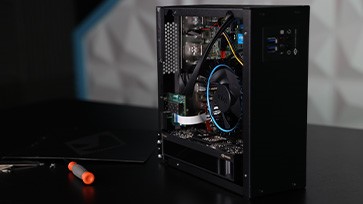 We want to thank ClearCube Technology for being a PNY partner and allowing PNY access to their EdgeCube system powered by the NVIDIA RTX A2000 12GB Professional GPU. You can learn more about EdgeCube on their website and configure a system that meets your needs and budget. EdgeCube is a trusted supplier to top government agencies, and for a quarter-century has pioneered the design and manufacturing of problem-solving products and solutions.