Modern GPUs have the ability to connect multiple displays to a single graphics card. Multi-screen environments increase the impact of visual imaging across commercial environments, and enhance enthusiast home gaming environments.
Technologies such as NVIDIA Surround and AMD Eyefinity offer the ability to bind multiple displays together in software to create a massive virtual display. However, Surround and Eyefinity are both consumer-level technologies, which come with a multitude of limitations and compromises, such as support for only 3 to 6 monitors, which are not suitable for creative professional, interactive digital signage, live events, security, or industrial applications.

To overcome these limitations, NVIDIA Quadro graphics boards offer key features for professional applications such as Digital Signage, Operational Control, and Spectacle Displays where multiple high resolution and high frame-rate monitors or projectors are linked together to offer a seamless single large-display viewing experience. NVIDIA Quadro Pascal and RTX series boards with Quadro Sync II daughterboards can support up to 32 displays, each at 4K resolution with full Frame Lock support and synchronization to prevent screen tearing. NVIDIA Quadro RTX graphics boards powered by the latest Turing architecture also provide these professional deployments with unparalleled cinematic quality, real-time ray tracing rendering performance, as well as support for the latest artificial intelligence enhancements like AI-denoising or video re-timing.
You will find the key features NVIDIA Quadro Sync II offers with compatible NVIDIA Quadro boards listed below. To learn more about Quadro graphics boards with Frame Lock and Sync support, please visit PNY's multi-display landing page, which includes a showcase of the Toronto Maple Leafs' on-ice projection (Video property of Toronto Maple Leafs.)


PNY Multi-Display Solutions Landing Page: www.pny.com/multi-display
Key Features of Quadro Sync Solutions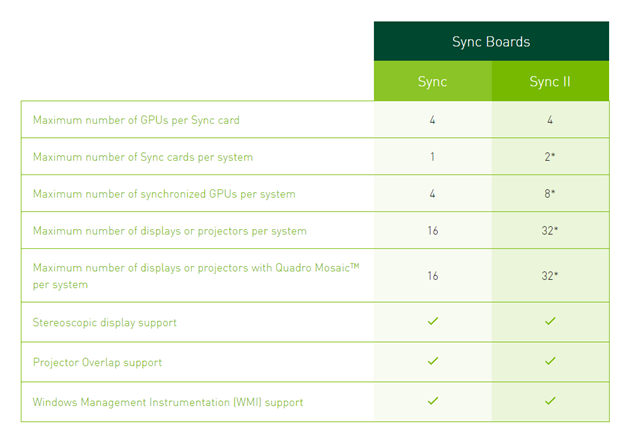 * Support requires Linux and Quadro Driver R387 or newer.
* Support for over 4 GPUs requires a Quadro SLI Certified System.
(Source: https://www.nvidia.com/en-us/design-visualization/solutions/quadro-sync/)
PNY Sales and Technical Support Teams are eager to assist you with your multi-screen project needs. Please reach out to us via GoPNY@pny.com or leave a comment below.
***
Do you have a great tip to share with the community regarding PNY GPU or Storage products?
We would love to hear from you. Please submit your tip suggestion by visiting the following page: