If you are one of the millions of creative and technical professionals that rely on NVIDIA® Quadro® graphics cards in your office workstation, but find yourself working from home during the COVID-19 pandemic on your personal workstation or professional PC, then here are three reasons why you should utilize a system with an NVIDIA Quadro graphics card while working from home.
Reason One: NVIDIA Quadro graphics cards are designed and manufactured by NVIDIA for professional applications and workflows. NVIDIA Quadro drivers are also optimized and certified by independent software vendors (ISVs) on 100+ professional applications. NVIDIA Quadro graphics boards offer the hardware consistency and driver optimization that consumer grade products simply cannot provide. The NVIDIA Quadro board you purchase for your home workstation or professional PC will be identical to the board you have come to love and trust at work. NVIDIA Quadro drivers also support WMI (Windows Management Instrumentation) so remote IT staff can troubleshoot or configure your NVIDIA Quadro board if necessary.
Since NVIDIA Quadro graphics boards are designed for professionals, they offer more CUDA Cores, RT and Tensor Cores and much larger GPU memory capacity than consumer grade products. High End NVIDIA Quadro graphics boards offer ECC memory to ensure data integrity, which no consumer-grade product offers.
Only NVIDIA Quadro RTX accelerates professional Architecture, Engineering and Construction, CAD, CAE, Media and Entertainment, and scientific applications that benefit from photorealistic ray-tracing, AI (Artificial Intelligence), and VR (Virtual Reality). Now with Quadro View and Quadro Experience - compatible with Quadro RTX and Pascal architecture products - you can realize your creative, product, or research vision with unmatched performance and previously unrealizable productivity.To learn more about NVIDIA Quadro advantages when working from home, please visit www.pny.com/wfh.
Reason Two: NVIDIA Quadro drivers feature NVIDIA optimized application profiles for many popular ISV applications. These certified profiles optimize application performance by using parameters tuned in collaboration between NVIDIA and industry-leading ISVs. Parameters such as Antialiasing, Image Sharpening, and Shader Cache are difficult to fine-tune, but having the right parameters a click away in your driver offers considerably better application and workflow performance, and superior visual fidelity.
To pick the right profile choose "Managing 3D settings" in the NVIDIA Control Panel and select the profile to matches your workflow.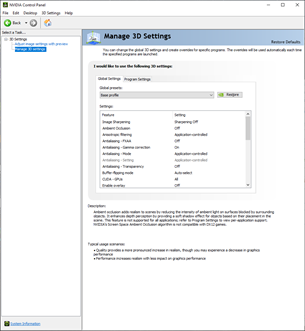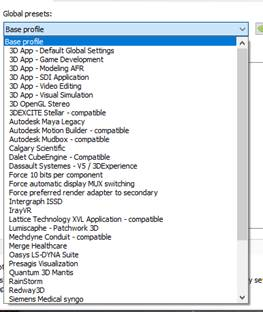 Reason Three: Adding NVIDIA Quadro graphics boards to a workstation or professional PC is a straightforward process. Most commercially available workstations are designed to support NVIDIA Quadro boards. NVIDIA Quadro P400, P620, P1000 and P2200 boards do not require auxiliary power input, so it's a simple plug and play process. Higher performance cards like the NVIDIA Quadro RTX™ 4000, RTX 5000, RTX 6000 and the RTX 8000 require 6-pin or 8-pin auxiliary power connectors, or a combination of the two, and you should check your system's mechanical specifications (specifically slot size and spacing), power supply rating, and cable connections. If you have any questions regarding system compatibility, purchasing an NVIDIA Quadro graphics board, or the installation process, please email PNY at gopny@pny.com or call (800) 203-0130 for free technical support.
To learn more about how NVIDIA Quadro professional graphics board can accelerate your workflow while working from home visit www.pny.com/wfh
***
Do you have a great tip to share with the community regarding PNY GPU or Storage products?
We would love to hear from you. Please submit your tip suggestion by visiting the following page: