SOLIDWORKS is a computer-aided design (CAD) and computer-aided engineering (CAE) application from Dassault Systèmes. This highly versatile and capable software lets designers quickly sketch out ideas, experiment with different features, and produce models or detailed engineering drawings.
In SOLIDWORKS 2019, Dassault Systèmes introduced an experimental feature that offloads additional rendering operations from the CPU to powerful NVIDIA® GPUs. It's called "Enhanced graphics performance" under the "Performance" sub-menu. By leveraging NVIDIA Quadro's Open GL 4.5 hardware acceleration, this setting adds significant improvement during pan, zoom and rotate in the part or assembly environment. The performance scales up with higher end graphics cards, so it is ideally suited to High-end and beyond NVIDIA Quadro® RTX™ and NVIDIA RTX professional graphics products.
NVIDIA SPECapc testing for SOLIDWORKS 2019 found a 2x performance boost (on average) with this feature turned on.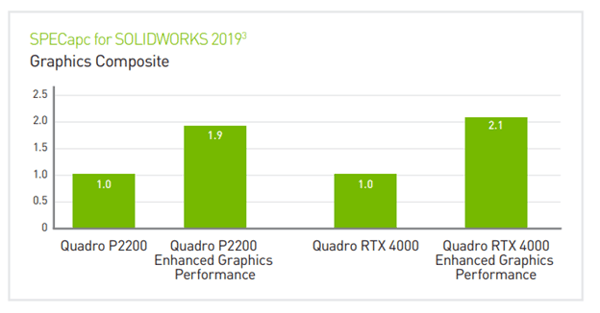 3 Tests run on a workstation with Xeon Gold 6154 (3.7 GHz Turbo), 64 GB RAM, running Windows 10 64-bit, NVIDIA driver 436.30. Performance testing completed with publicly available SPECapc for SOLIDWORKS 2019 benchmark information.
This feature exited BETA status and is part of SOLIDWORKS 2020. It has been further enhanced in the recently released SOLIDWORKS 2021. Click the link below and check out the quick video from the SOLIDWORKS YouTube channel for a performance comparison.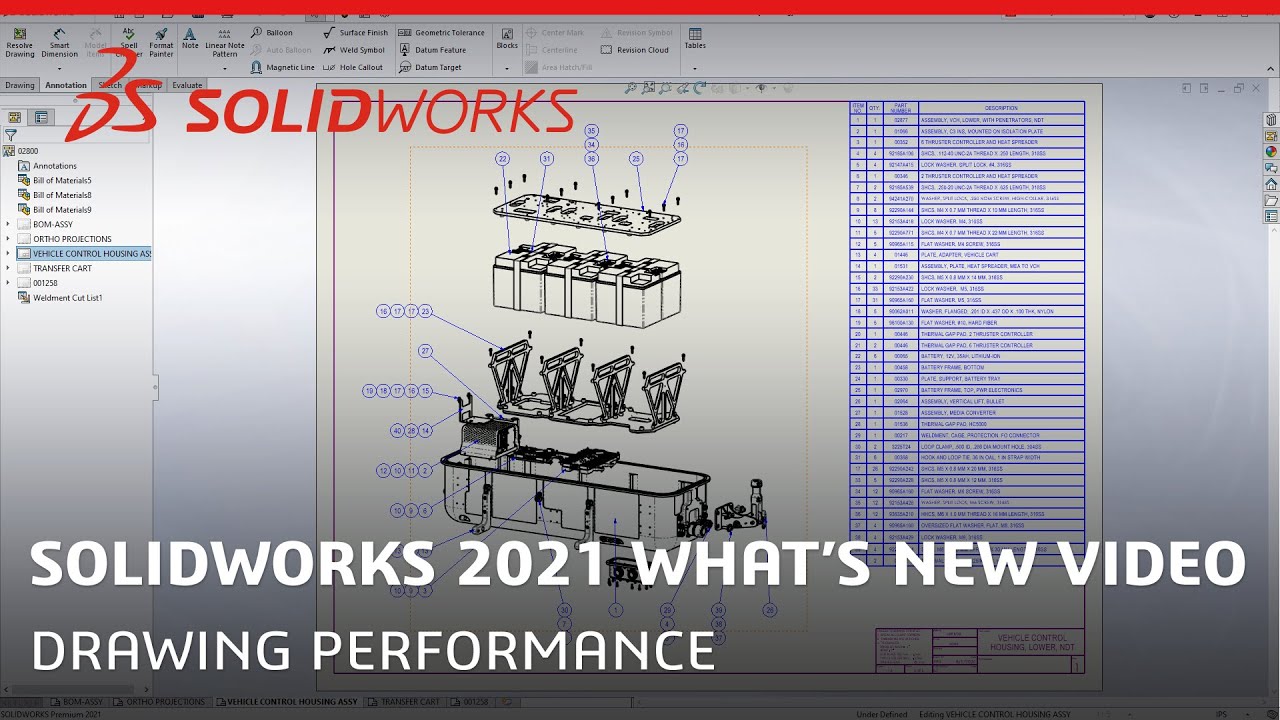 What's New in SOLIDWORKS 2021 - Drawing Performance
If you need to boost your SOLIDWORKS performance utilize the latest NVIDIA Quadro or NVIDIA RTX professional graphics cards available from PNY and double check that the "Enhanced graphics performance" option is turned on. For more information about supercharging your SOLIDWORKS workflows with NVIDIA Quadro graphics cards, please visit PNY's SOLIDWORKS landing page at www.pny.com/solidworks.
For more information about how PNY offerings like the new HTC VIVE Pro Secure and NVIDIA Quadro or NVIDIA RTX graphics cards can accelerate your design and manufacturing workflows, please visit PNY's Manufacturing landing page, www.pny.com/manufacturing.
For more information about latest NVIDIA Quadro professional graphics cards such as the RTX 4000, 5000, 6000, 8000 and the newly announced Ampere architecture-based NVIDIA RTX A6000, please visit www.pny.com/quadro.
If you are interested in purchasing a new Quadro-powered workstation for SOLIDWORKS, check out our partner PUGET SYSTEMS' SOLIDWORKS 2020 system recommendations for Summer 2020.
https://www.pugetsystems.com/labs/articles/Best-Workstation-PC-for-SOLIDWORKS-Summer-2020-1830/
---
Do you have a great tip to share with the community regarding PNY GPU or Storage products?
We would love to hear from you. Please submit your tip suggestion by visiting the following page:
www.pny.com/pnyprotips