On December 15, 2020, the sophisticated new NVIDIA® RTX™A6000 Workstation graphics board became available to professionals that require the fastest GPU designed specifically to accelerate professional applications and workflows. Architects, Artists, Designers, Engineers and Scientists can now purchase this graphics board for their workstations and enjoy up to twice the performance for doing AI training or graphic rendering compared to the still powerful previous generation NVIDIA Quadro RTX 6000.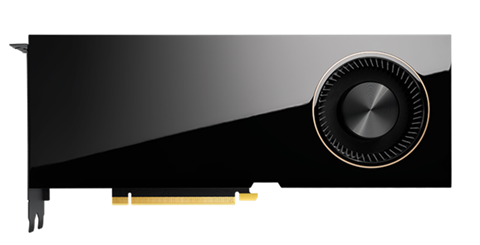 NVIDIA packed the RTX A6000 graphics board with 10,752 Ampere CUDA Cores, 84 Gen II RT Cores, and 336 Gen III Tensor Cores. Critically, it is also equipped with 48GB of GPU memory, allowing a massive amount of data to be processed by the GPU. As NVIDIA CEO, Jensen Huang put it so elegantly, NVIDIA's powerful GPUs allow professionals to "Create at the speed of imagination."
Along with the higher compute throughput the Ampere architecture provides, NVIDIA elected to use a new power connector than prior generation NVIDIA Quadro and GeForce® cards. This article will dive into the different types of connectors found on each Ampere graphics board along with the adapter auxiliary power cable these boards ship with.
Prior generation NVIDIA Quadro RTX and GeForce 20 series graphics boards utilize the PCI Express style 6-pin and 8-pin connections to supply auxiliary power. On the NVIDIA RTX A6000 graphics board, NVIDIA transitioned to the EPS-12V 8-pin connector commonly found on rackmount server systems. For desktop users, this style of connector usually plugs directly into the motherboard to supply auxiliary power for the CPU.
The EPS-12V 8-pin connection utilizes additional 12V connections to the power supply relative to the PCI Express style 8-pin and 6-pin connections. Consequently, an EPS-12V 8-pin connection is able to provide more power to the graphics board with a single connector.

PNY understands that not every customer has the EPS-12V 8-pin connector needed to power the NVIDIA RTX A6000 graphics board, so we include a dual PCIe 8-pin to EPS-12V 8-pin adapter with all RTX A6000 products.
For more information about power requirements of NVIDIA RTX A6000 and previous generation NVIDIA Quadro graphics boards, please consult the POWER GUIDELINES FOR WORKSTATION PRODUCTS document on PNY.com.

>> POWER GUIDELINES FOR WORKSTATION PRODUCTS
For more NVIDIA RTX A6000 product information, please visit PNY's NVIDIA RTX A6000 product page, https://www.pny.com/nvidia-rtx-a6000, or email us at GoPNY@pny.com.