NVLink was introduced with the Pascal generation graphics processors in 2016. NVLink was developed to address the bandwidth limitations which the PCI-Express data path imposed as demand for high data throughput continues to accelerate. Since its inception, NVIDIA improved the NVLink implementation and increased its bandwidth capability from a theoretical maximum of 80 GB/s bidirectional data throughput to 100 GB/s found on NVIDIA Quadro RTX 8000 and NVIDIA Quadro RTX 6000 graphics boards. With the latest Ampere architecture-based NVIDIA RTX A6000 professional graphics card, NVLink now provides up to 112GB/s of bidirectional data transfer between two connected NVIDIA RTX A6000 graphics boards.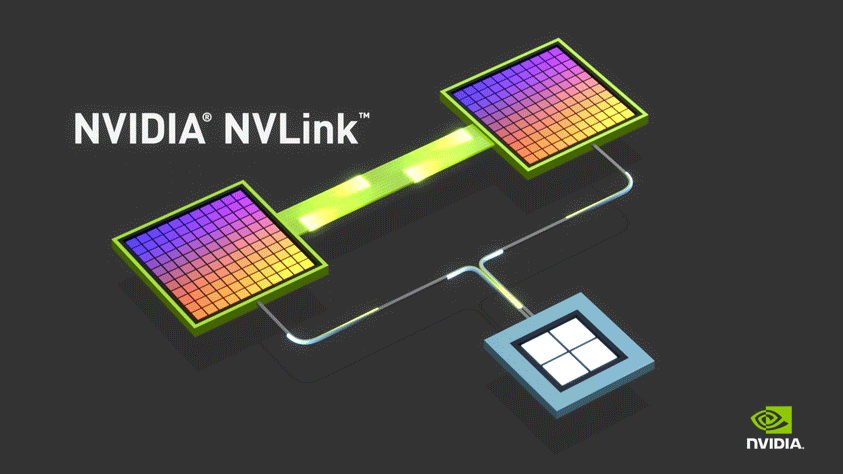 NVLink enables many exciting new features such as memory pooling and performance scaling that dramatically accelerates workloads found in Machine Learning, Data Science, VFX, CAD and CAE, HPC, and Scientific and Technical computing .
A proper NVLink implementation must match identical GPUs with the correct NVLink bridge to make the necessary connection. You must pick the NVLink bridge that matches your NVIDIA professional graphics boards and motherboard. The following table matches NVLink capable graphics boards with the corresponding NVLink bridge required.
| | | | |
| --- | --- | --- | --- |
| GPU Name | GPU Part # | NVLINK Bridge (2-SLOT) | NVLINK Bridge (3-SLOT) |
| | VCNRTXA6000-PB | RTXA6000NVLINK-KIT | RTXA6000NVLINK-3S-KIT |
| | VCQRTX8000-PB | RTX6KNVLNKX16S2RKIT | RTX6KNVLINKX16S3RKIT |
| | VCQRTX8000P-KIT | RTX6KNVLNKX16S2RKIT | RTX6KNVLINKX16S3RKIT |
| | VCQRTX6000-PB | RTX6KNVLINKX16S2RKIT | RTX6KNVLINKX16S3RKIT |
| | VCQRTX6000P-KIT | RTX6KNVLNKX16S2RKIT | RTX6KNVLINKX16S3RKIT |
| | VCQRTX5000-PB | RTX5KNVLINKX8S2RKIT | RTX5KNVLINKX8S3RKIT |
The 2-Slot bridge is required when two graphics boards are sitting side-by-side on a motherboard, while the 3-Slot bridge is required when there is an empty slot between the two graphics boards. The graphical representation below clearly depicts the difference.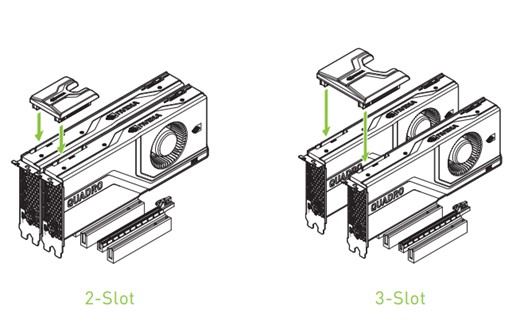 To take full advantage of NVLink features, ISV software must be made multi-GPU aware and capable of utilizing the NVLink connection. While the list of NVLink-aware software continues to grow, please consult your ISV to ensure your preferred software is NVLink ready.
PNY has an excellent NVLink Quick Start Guide for installing the NVLink bridge onto your graphics boards and run a quick software check to ensure the bridge is successfully installed. You can view or download the Quick Start Guide by visiting the URL below:
https://www.pny.com/file%20library/company/support/product%20brochures/nvidia%20quadro/nvidia-quadro-rtx-nvlink-bridge-quick-start-guide.pdf
For more information about NVLINK, please visit the PNY NVLINK landing page at:
For more information about NVIDIA RTX A6000 Professional Graphics board, please visit:
https://www.pny.com/nvidia-rtx-a6000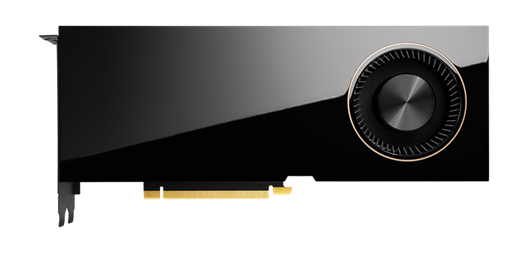 ---
Do you have a great tip to share with the community regarding PNY GPU or Storage products?
We would love to hear from you. Please submit your tip suggestion by visiting the following page:
www.pny.com/pnyprotips