The ability to work effectively and effortlessly with a team of highly skilled colleagues is a decisive competitive advantage that leads to success. This is true on a basketball court or soccer field, but equally true and critical in a corporate environment, a movie special effect studio, or an architectural design firm. Due to COVID-19, today's workforce is no longer centralized in a single location. It is very likely that your coworkers or business partners are spread across the country, if not across the world, so the ability of stakeholders to collaborate effectively is now a MUST HAVE for any corporation today.
NVIDIA Omniverse™ is an open platform built for virtual 3D design collaboration and real-time physically accurate simulation. Omniverse is comprised of multiple GPU accelerated applications and purpose-built connectors that allow Omniverse to work directly with third-party applications such as Unreal Engine from Epic Games, and popular creative tools from Autodesk, Adobe, Blender, Reallusion, Trimble, and more.

In this blog, we will go over the system requirements and the process to install Omniverse Open Beta inside a Windows 10 environment.
NVIDIA Omniverse Demos
AT GTC this year, NVIDIA showcased how car maker BMW Group simulated an entire factory with NVIDIA Omniverse. With this digital twin version of the factory and the collaboration of experts located around the world, BMW was able to maximize factory safety and productivity.
Here is a video of the BMW Omniverse demo:
NVIDIA Omniverse - Designing, Optimizing and Operating the Factory of the Future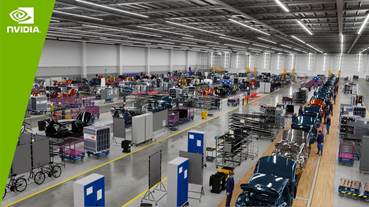 Omniverse System Requirements and GPU Recommendations
While Omniverse is a powerful platform that can accurately simulate real-world physics, the minimal system requirement to get started is very accommodating, requiring just a contemporary quad-core processor from Intel or AMD and 16GB of system memory. Omniverse does require an NVIDIA® RTX™ capable graphics card, such as the NVIDIA Quadro® RTX 4000 or NVIDIA RTX A4000 or higher, so the full potential of real-time raytracing and AI features such as AI-denoising can be utilized.
As workloads and workflows become more complex and more assets are leveraged within Omniverse, the system requirements increase as well. Since all assets that will be processed by the GPU must be loaded into the GPU's frame buffer, GPU memory size plays a key part in delivering a seamless user experience. Professional graphics cards from NVIDIA provide the large amount of GPU memory required for advanced Omniverse workflows, cards such as NVIDIA RTX A5000 and NVIDIA RTX A6000 are ideal for Omniverse implementations.
Omniverse supports multi-GPU rendering, making the NVIDIA EGX for Professional Visualization platform ideal for highly complex Omniverse implementations, in which multiple Data Center grade GPUs such as NVIDIA A40 and NVIDIA A10 work flawlessly together to provide a smooth operation. Explore NVIDIA Omniverse Today.
Learn More About Omniverse Enterprise
Omniverse Enterprise is an enterprise-ready platform for next generation 3D design collaboration and simulation. The platform was announced in April and will be made available later this year directly from PNY. Learn more here.
Try Omniverse Open Beta - Installation Procedures
Omniverse Open Beta is currently available for all users and the download link is available via PNY's own Omniverse landing page, which is listed below.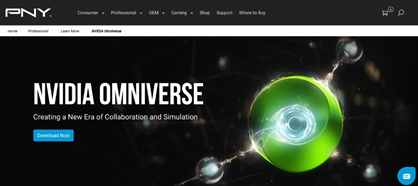 Start your Omniverse journey by clicking "Download Now" on the PNY landing page, and "Download Open Beta" in the NVIDIA page that opens next. Answer the beta participation questions and when you reach the following page, select "Windows" to start the file download process.
Select Omniverse version to start download

Once the file has been downloaded, double-click the file and follow the on-screen instructions to complete the installation process.
You should now have a "NVIDIA Omniverse Launcher" icon on the desktop, double-click it to launch your own Omniverse platform.

You will need an NVIDIA account to utilize Omniverse, if you do not already have one, you can create a new account during the initial login screen as seen below.
Omniverse Login Screen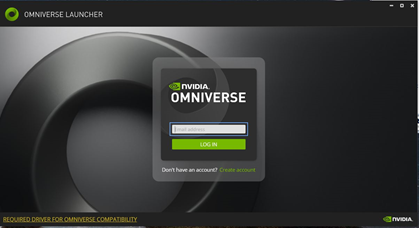 When you enter the launcher for the first time, you will be greeted with an empty library. It is now time to discover all the available Omniverse Apps and Connectors available within Omniverse by visiting the Exchange tab. In the Exchange tab you will find the GPU accelerated apps such as Omniverse Create, Omniverse Isaac Sim, and Omniverse Machinima, plus Connectors to popular applications such as Epic Games Unreal Engine 4, Autodesk Maya, 3ds Max and Revit, Reallusion Character Creator, and Trimble SketchUp.
Omniverse Library Tab

Omniverse Exchange Tab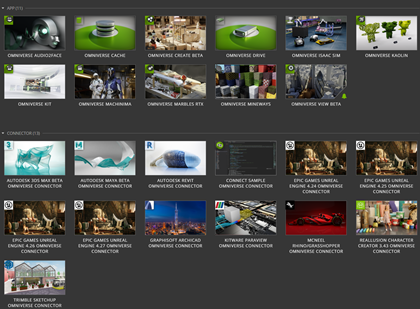 Here's an NVIDIA video on installing the Omniverse Windows Launcher for your reference.
Getting Started on Windows with the NVIDIA Omniverse Launcher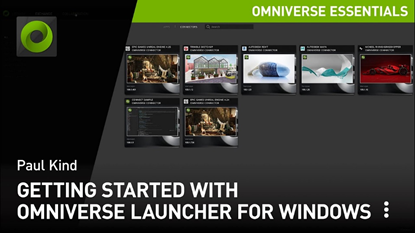 There are many additional NVIDIA resources detailing the features and benefits of Omniverse, which are highly recommended by PNY. You will find the URL to the NVIDIA tutorials library below.
https://developer.nvidia.com/nvidia-omniverse-tutorials
In a future PNY Pro Tip blog we will cover select Omniverse applications and test some of the Connectors, so stay tuned.
---
Do you have a great tip to share with the community regarding PNY GPU or Storage products?
We would love to hear from you. Please submit your tip suggestion by visiting the following page:
www.pny.com/pnyprotips