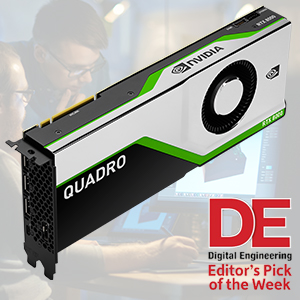 Any professional, from craftsmen to coder, will tell you the right tools are necessary to see a project through to completion. The NVIDIA Quadro RTX 8000 is the ultimate tool for those looking to push the boundaries of what is possible and has been named Editor's Pick of the Week by Digital Engineering (DE) for its astounding capacity. But what makes the NVIDIA Quadro RTX 8000 stand out above the rest?
Equipped with a deep learning neural network, state-of-the-art microarchitecture powering over 16 trillion simultaneous operations, and RT cores designed to utilize real-time ray tracing, the Quadro RTX 8000 is perfectly suited to meet the needs of a modern HPC (high-powered computing) market. Geared toward performance and NVLink capable, the considerable power of Quadro RTX 8000 can also be doubled with the addition of another.
NVIDIA is proud to be recognized by such a mainstay of the industry as DE. Regularly covering emergent technology changing the ways we work, DE may be the first to recognize the potential of the Quadro RTX 8000, but it certainly won't be the last.
For the full story and more from Digital Engineering, follow this link.