Launching the PNY PREVAILPRO mobile workstations at SIGGRAPH was an exciting event for PNY and event participants. Both versions of the PREVAILPRO Series the P4000, our VR-ready and Max-Q compliant version and the P3000 were prominently displayed in our booth and were welcomed by partners, media and attendees alike. The PNY booth buzzed with interest in the compute enabled 2x Quadro GP100 + NVLink system, the VCA Certified Rendering System and the fully enabled P6000 VR system.
Visitors to the booth were captivated by the ability to hook up these thin and light PREVAILPRO mobile workstations to three external 4K UHD displays, which combined with the built-in 15.6" 4K UHD panel provided a massive visual workspace never seen before on a mobile workstation. The clarity and vivid details that could be seen on all 4 monitors was unprecedented.

VR is still a hot topic at SIGGRAPH, from the VR Village to the numerous booths demonstrating various VR solutions, where you could fight samurai warriors or visualize an entire Bombardier -Talent 2- heavy rail passenger train. This made the PREVAILPRO P4000, powered by the VR-Ready Quadro P4000 mobile GPU an exciting addition to PNY's demonstrations. Hooking up the HTC VIVE VR headset has never been simpler, and the ability to take this VR system into the field or to provide architectural walk throughs at a client's facility has never been easier.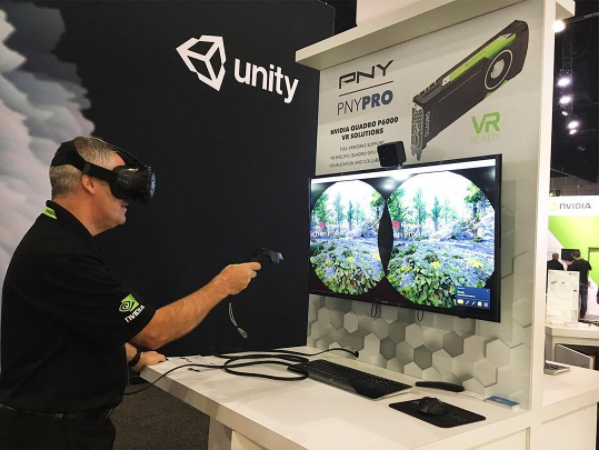 For non-mobile systems, the VR rig powered by the Quadro P6000 also received a lot of attention, with attendees mesmerized by the virtual landscape and floating butterflies presented by the Theia interactive demo. VR creation and consumption requires the highest-performance graphics to deliver the smoothest, most immersive and life-like VR experiences. This system demonstrated how the P6000 with 24 GB GDDR5X GPU memory and 3840 CUDA Cores delivers the level of performance and capabilities essential for the best VR experiences across professional applications.
Dramatic show stopping footage at the booth came from Zero VFX, renowned for their complex visual effects for feature films such as Ghostbusters and Patriots Day. Zero VFX configured the 2x Quadro GP100 + NVLink system that was showcasing their work. This enabled them to try the system out in their VFX workflow and experience the production rendering acceleration achieved using the massive compute and visualization power of the GP100.
---
"Zero VFX was so impressed with the speedup offered by the 2x Quadro GP100 + NVLink system that they are considering purchasing several to complement their current workstation standard, the Quadro P4000. Although they didn't give us specific performance numbers Zero VFX indicated that these boards would be cost effective due to the extreme performance offered and the ability to explore alternative creative approaches to best meet client needs and expectations."
Carl Flygare, Quadro Product Marketing Manager, PNY
---
A rackmount case featured a VCA Certified Rendering System. This beast hosts eight Quadro P6000 GPUs. A much smaller client system powered by a Quadro P1000 loaded with Autodesk Design Suites and SOLIDWORKS Visualize Professional demonstrated how you can access the immense power of the VCA system to enable interactive physically based rendering by manipulating a sophisticated motorcycle model in real-time. Thanks to our VCA Certified Partners GPL (VCA) and RAVE (VCA Client) for supplying systems.
Visit the SIGGRAPH 2017 wrap up page for more details.
PNY hopes to see you in Vancouver 12-16 August 2018!
SIGGRAPH is the world's largest, most influential annual conference and exhibition in computer graphics and interactive techniques.
PNY PRO had a whole new look this year at SIGGRAPH 2017, reflecting our commitment to professional and quality products. The launch of PREVAILPRO P4000 and P3000 mobile workstations, caused much excitement on the booth and packed the presentation theater.
Visitors learned how PNY products, including the PREVAILPRO, VCA Certified Systems, NVIDIA Quadro VR-Ready, professional graphics boards and the double precision (FP64) compute enabled Quadro GP100 accelerate professional workflows for Visual Effects, VR, Digital Content creation and 3D design.