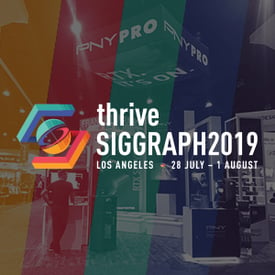 As one of the world's largest computer graphics and related technologies shows, SIGGRAPH has been a launch pad redefining the possible, based on the latest advances in computer graphics, animation, VR and AR, gaming, and emerging technologies like AI. Held last week at the Los Angeles Convention Center, SIGGRAPH 2019 was no exception. PNY and select partners proudly featured revolutionary NVIDIA Quadro RTX technology and solutions that are rapidly setting new industry standards for 3D product design, architecture, manufacturing, M&E, VFX, scientific visualization, and gaming.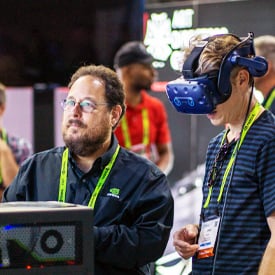 NVIDIA Quadro RTX Takes Professional VR to the Next Level
Variable Rate Shading (VRS), a new RTX feature, and a technology preview of Autodesk VRED that supports it, delivered dramatic advances in professional VR. VRS enables a host of new features including Foveated Rendering, which places detail where the human eye-brain system is most visually acute, and Content Adaptive Shading, a technique that allows a designer to specify portions of a model, design, or scene where visual fidelity is of particular importance.
Complementing this impressive suite of new RTX features, a VIVE PRO EYE HMD, which features eye tracking, worked with a Silverdraft Supercomputing Demon VR Mini workstation featuring two Quadro RTX 6000 boards, making the benefits of VRS immediately apparent when viewing a complex automotive model. Foveated Rendering allowed viewers to experience the subtleties of the vehicles interior rich in detail and texture, while Content Adaptive Shading keep a carbon fiber hood from displaying annoying moiré patterns, regardless of where the user targeted their vision. Michael Bergen, NVIDIA's VR Global Alliances Manager, was a masterful subject matter expert who guided attendees through all of these exciting new capabilities, and gave a presentation on professional VR enhanced by VRS to an overflow capacity audience in the PNY SIGGRAPH theatre.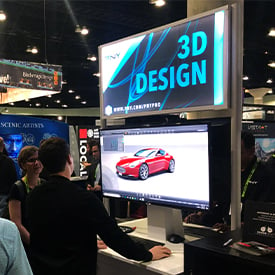 Automotive 3D Design Workflow Featuring Quadro RTX Real-Time Ray Tracing
A standout demo, which received special attention from NVIDIA's CEO Jensen Huang as he toured PNY's booth, also featured a preview version of Autodesk VRED, which supported RTX real-time photorealistic rendering. This breakthrough software ran on a Silverdraft Supercomputing Devil GPU server with 10x Quadro RTX 8000 boards. VRED generated real-time renders directly from the underlying CAD model with complete fluidity and photorealistic nuance that extended from subtleties in body curvature, to the complex interplay of light and glass, or the subtle matt textures of cast aluminum wheels or rubber tires. Vehicle color, lighting conditions, position, size – all parameters were rendered with Quadro RTX RT Core acceleration – as quickly as demo 'drivers' changed any setting! It was particularly gratifying to see engineers from the Autodesk Team responsible for implementing this paradigm busting software experience the results of their incredible coding, and the unmatched rendering capabilities provided by Quadro RTX. This was the most powerful single chassis Quadro RTX system demonstrated at SIGGRAPH 2019 as the results clearly demonstrated. In addition to 3D product design the implications for cinematic quality rendering or VFX work were immediately apparent, and the word of mouth 'WOW factor' kept this demo station extremely busy.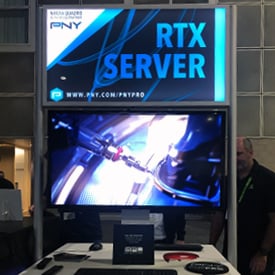 Cinematic Quality Real-Time Ray Tracing
Seasoned M&E and VFX professionals, along with digital artists from related disciplines, thought they were looking at a finished render, but they were actually viewing the real-time rendering output from an NVIDIA RTX Server from GPL Technologies featuring 8x Quadro RTX 8000 GPUs, Autodesk ARNOLD, and NVIDIA's massive Project SOL model. The atmospherics alone were stunningly complex and sophisticated – steam, dust, clouds, distant haze – complemented by an incredibly complex rocky landscape, and the high-tech textures, metallic sheens, and complex character animation of SOL, were being rendered live, as the touch of a single key demonstrated by switching from a wireframe representation to the cinematic results. With the tremendous GPU memory capacity offered by Quadro RTX, up to 48GB on the RTX 8000 (96 GB with NVLink), GPU rendering will completely reset the economics of, infrastructure necessary, and time required for, M&E (or Manufacturing) rendering of moving or still images.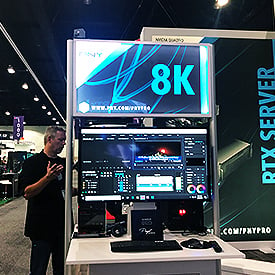 Realizing 8K Production Workflows
8K allows cinematographers to deliver higher quality, simplify on-set or scene logistics by allowing a single camera to capture images that can be reframed from vistas to close-ups, and produces higher quality images when down sampled to 4K or FHD resolution. However, the amount of data 8K requires is prodigious, up to 6 GB of image data every second when shooting RED 8K. H.265, utilized by Sony and Panasonic among others, is also extremely demanding. 360 VR video also produces file sizes and data rates comparable to (or even exceeding) 8K. A Quadro RTX 8000, in an editing optimized Puget Systems workstation, demonstrated real-time interaction with 6K and 8K RED files utilizing Adobe Premiere Pro. RED's new SDK moves debayering, white balance, color conversion and tone mapping from the CPU to the GPU, resulting in 24 FPS playback, while contemporary CPUs can deliver – at most – 11 FPS.
NVIDIA Rocketed Me to the Moon
In a fitting tribute to Apollo 11's historic moon landing 50 years ago, NVIDIA Research utilized RTX real-time ray tracing and AI-based pose estimation to reconstruct Tranquility Base, with show goers playing the role of Neil Armstrong and Buzz Aldrin against the riveting lunar landscape. This synergistic interplay of ray tracing and AI points to a future where ordinary people can re-enact extraordinary events, and opens the door to entirely new forms of entertainment experiences. View the amazing results.
As they say in LA "That's a wrap!" We'll see you next year at SIGGRAPH 2020 in Washington, D.C.