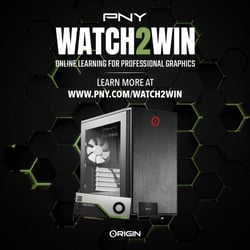 PNY's new Watch2Win contest has started! WATCH2WIN has long been the foundation of PNY's e-learning program for customers who use NVIDIA Quadro professional graphics boards to accelerate their workflow. WATCH one of the NVIDIA Quadro GPU product snapshots at www.pny.com/W2W to learn which of these advanced pro graphics solutions are right for you and be entered into the contest for a chance to WIN an NVIDIA Quadro RTX 4000 Powered Workstation from ORIGIN PC.
Your Chance to Win an NVIDIA Quadro RTX 4000 Powered Workstation
WATCH2WIN offers many opportunities to earn grand prize entries for an NVIDIA Quadro RTX 4000 powered workstation from ORIGIN PC. This system can handle Video Editing, CAD, Virtual Reality, or anything in-between. Earn multiple grand prize entries by watching short and informative videos, which highlight the key benefits and advantages of using NVIDIA Quadro GPUs in professional workflows for target markets such as Manufacturing, Media and Entertainment and AEC. Earn additional entries through sharing PNY's engaging videos with accounts or colleagues who are interested in using professional graphics solutions to accelerate their workflows.
As an incentive to stay up to date with Quadro product information, tips and tricks and use cases, you can also earn entries by signing up with PNY's Quadro-centric professional social platforms.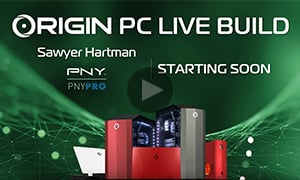 We hope you enjoy this new and exciting way to learn more about Quadro products and solutions. Visit the WATCH2WIN page regularly, since we will be adding additional videos as they become available.

PNYPRO and ORIGIN PC have joined forces to create the ultimate editing system for Sawyer Hartman, a highly successful YouTube filmmaker with over 1.8M followers. Check out this livestream video of ORIGIN PC building a custom PC powered by an NVIDIA Quadro RTX 6000 that will enable Sawyer to edit video's faster than ever before!